Madrid-based Barracuda Yacht Design has presented 50m "pocket size" concept for an explorer yacht, which offers the 'go-anywhere' capability and sense of luxury available from a larger size vessel.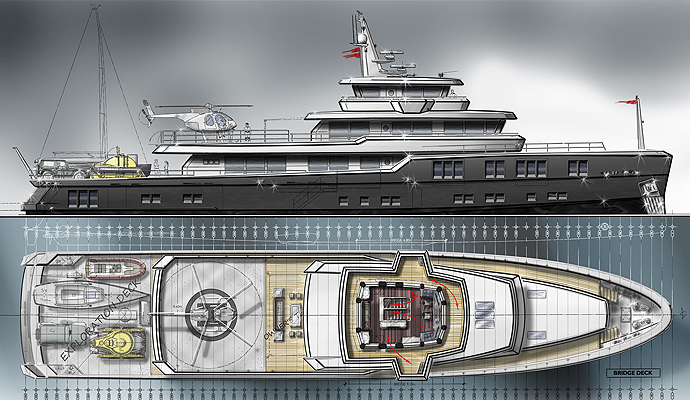 With just 2.30m draft (compared to say 4.00m draft for an equivalent 80m), it's not hard to imagine this full-of character yacht accessing the kind of secluded anchorage, or hard-to-reach viewing spot, that longer length, deeper-draft yachts would simply not be able to reach.
Including virtually all of today's 'must have' attributes such as a private owner's deck with certified helicopter landing pad, four comfortable guest bedrooms, a lower-deck beach club, large stern garage and generous living space for a happy crew. This is a true Explorer, with enough space to carry every kind of conceivable extra for truly life-changing experiences spent onboard.
Compared to an equivalent 60m+ yacht, this design benefits from significant new-build and operational savings of between 30% and 40% less, making both sound financial and practical sense.