The Italian Sea Group has announced the launch of This Is It, the new motor catamaran of the Tecnomar fleet, 43.5 meter in length and 14.5 meter in width, with approximately 750GT. This Is It represents an exciting new presence on the catamaran landscape, then tradition and innovation come together to create a concept of radical lifestyle and elegance, defined by a layout with more than 600 sq. m of impressive glass windows.
The complex curved shape of the aluminum superstructure, the hull lines are optimized to enhance hydrodynamic efficiency, leading to a significant reduction in fuel consumption and, therefore, emissions. In compliance with IMO Tier III requirements, the yacht is equipped with innovative exhaust gas treatment technology (SCR – Selective Catalytic Reduction) to reduce nitrogen oxide (NOx) emissions.
Inside guests can find six cabins, a massage room, and a galley with polarized glass for events and show cooking.
The spacious owner's area, in addition to a large skylight with an extraordinary height of 3.3 meter and a superb panoramic terrace, features a special vertical garden spanning two decks, giving the feeling of being in a seaside villa.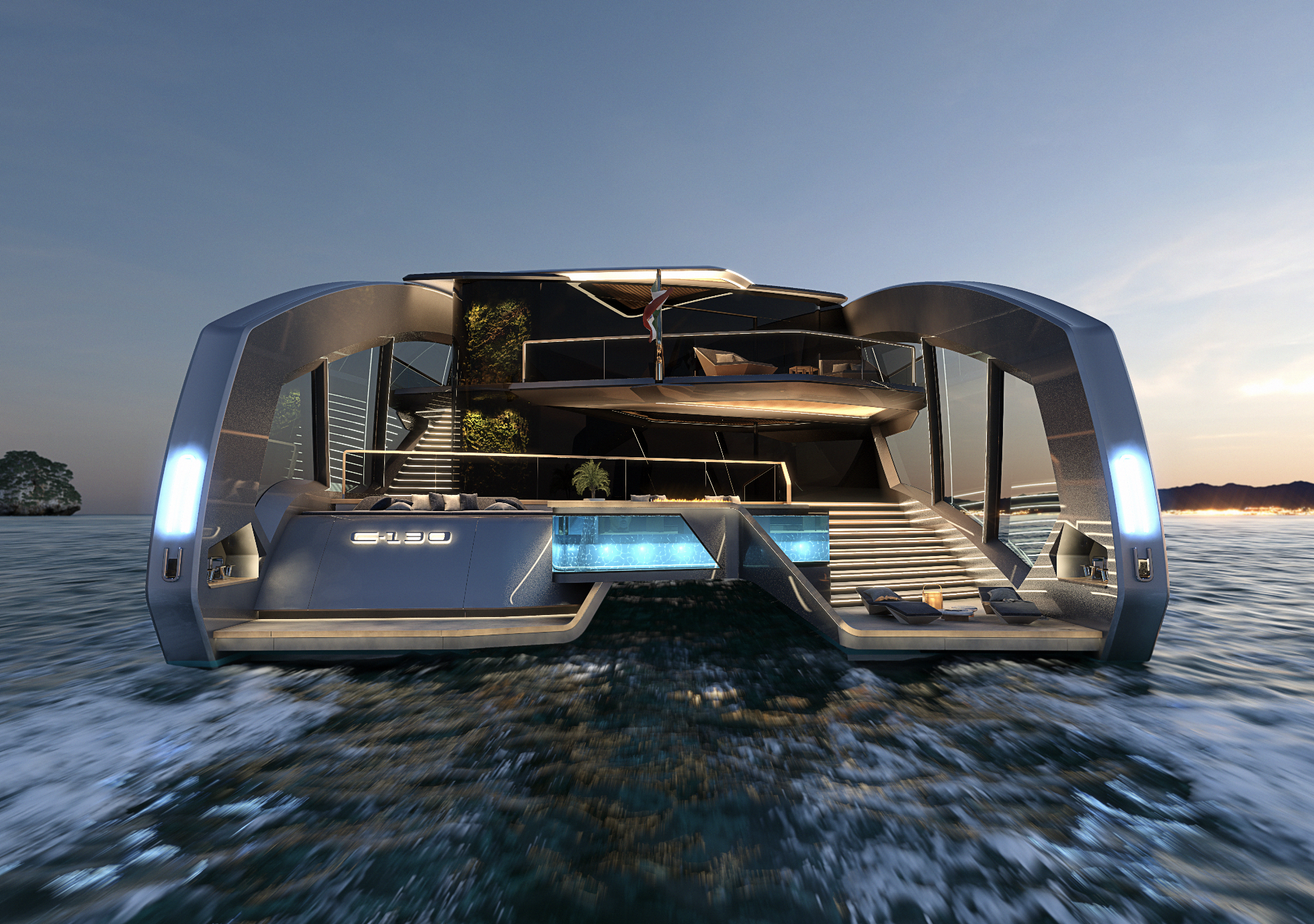 Leather and Alcantara materials interweave with oak and teak, creating a conversation marked by daring geometric designs and accents of gray marble. The prevailing ambiance is one of dynamism, evoking movement and a sporty feel. Yet, the color scheme maintains an air of elegance and sophistication, predominantly featuring soft hues of beige and platinum gray.
The infusion of opulence is achieved through the harmonious fusion of noble metals like gold, bronze, titanium, and carbon, creating a striking contrast with the tranquil tones of natural wood and leather finishes.
"The realization of this extraordinary project challenges the "conventional" perceptions, driving us to completely recreate the boundaries of aesthetic parameters. This Is It is born as the perfect blend between the desires of a forward-thinking owner and a brand like Tecnomar, capable of taking on such an ambitious and demanding challenge. We will present this iconic yacht for the world premiere at the Monaco Yacht Show," comments Giovanni Costantino, Founder and CEO of The Italian Sea Group.
The Italian Sea Group is a global operator in the luxury yachting industry, listed on Euronext Milan ("EXM") and active in the construction and refit of motor yachts and sailing yachts up to 140 meters. The Company, led by Italian entrepreneur Giovanni Costantino, operates on the market with the brands
Admiral
, renown for elegant and prestigious yachts,
Tecnomar
,
Perini Navi
, and
Picchiotti
; the Company has a business unit, NCA Refit, that manages the maintenance and refit services for yachts and mega yachts with a length over 60 meters.
Credits: The Italian Sea Group