In the spotlight throughout a long-running case around Malaysia's sovereign wealth fund 1MDB, the 91-meter
Equanimity
is now being
auctioned for a nine-figure sum by Malaysia
's government. Built by
Oceanco
, the superyacht was delivered with one of the largest spas ever seen onboard a yacht.
1MDB was created in 2009 as a sovereign wealth fund with over $4 billion under management to invest in strategic projects. After a series of investments in energy and real estate, a controversy around the fund began as to whether funds had been misappropriated throughout this period by management and government officials.
Later investigations led to asset seizures spearheaded by the US DoJ, amongst which was Equanimity. It was then
claimed
that her owner, financier Jho Low, had ordered the yacht using profits that were connected to 1MDB's real estate dealings and off-shore accounts totalling over $250 million for the yacht's purchase and upkeep.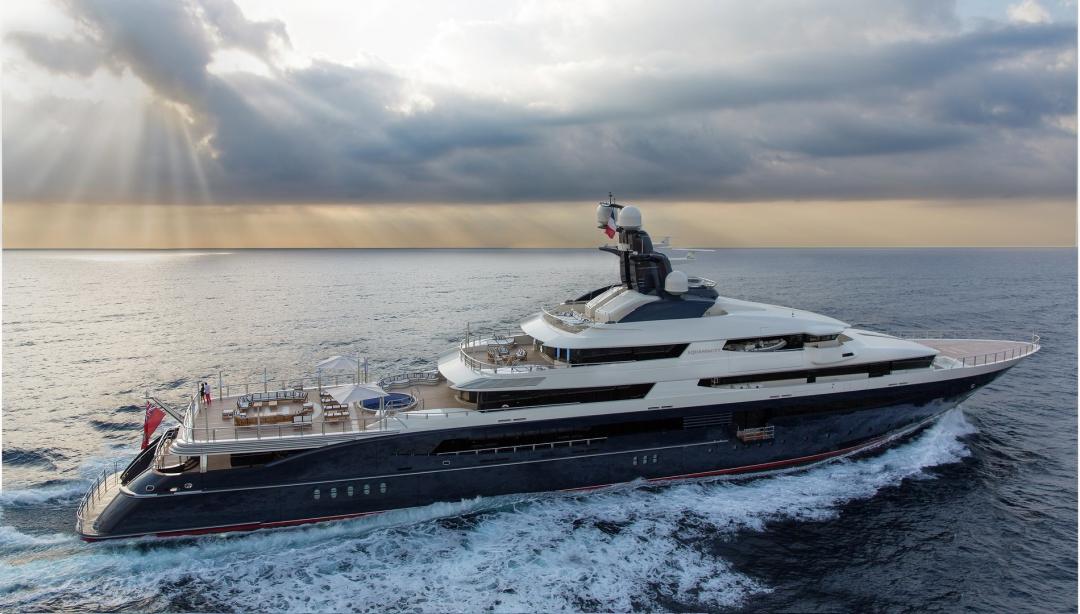 Financed also in part through a loan by Sotheby's financial against art works, Equanimity was delivered in 2014 and introduced at the Monaco Yacht Show later that year where she won the award of finest yacht. Amongst her main highlights was an extensive spa area that spanned a large part of her lower deck.
Following developments in the 1MDB case, the
DoJ moved to seize Equanimity
in June 2017 as part of their effort to recoup an estimated $400 million in alleged profits from Low. The yacht was eventually seized in Indonesia at the request of Malaysian authorities. According to a spokesman for Equanimity (Cayman) Ltd, this was done in violation of Indonesian and American court rulings.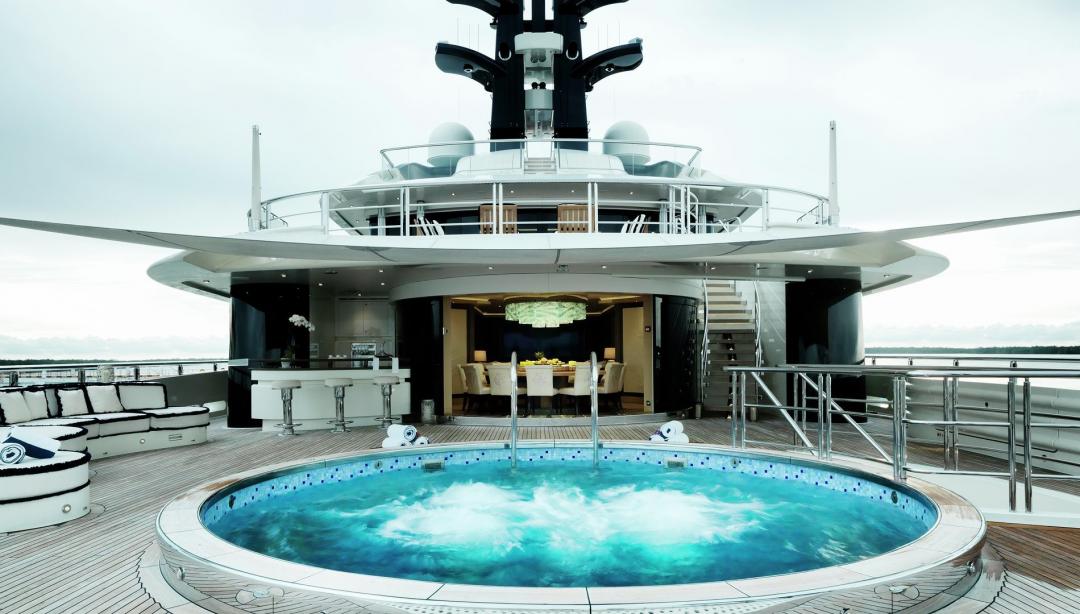 Following the seizure, the yacht was transported to Malaysia where finance minister, Lim Guan Eng said an auction of the yacht was to take place. It is now understood at least nine figures were being sought for the
yacht at the auction
, which is expected to be completed by March 2019.

Equanimity was, however, famous across the yachting community, well before being pushed into the limelight by this case, for its extensive spa area on the lower deck, plunge pools and highly customised interior. At 2,998 gross tons of interior volume, the yacht still sits as the 65th largest yacht in the world.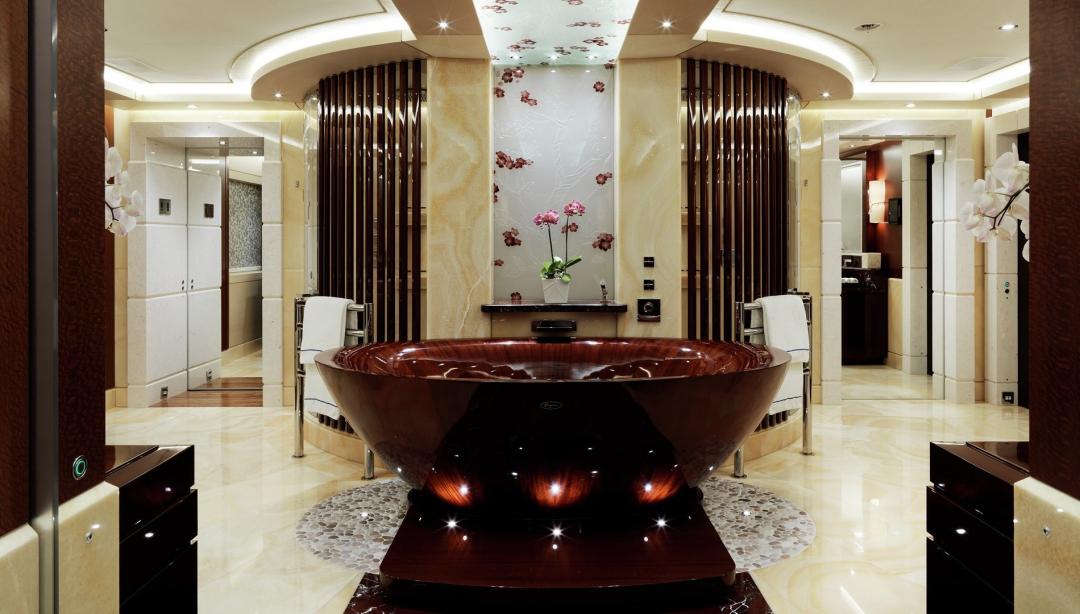 The 91-meter's spa is akin to that of a megapolis' 5-star hotel. Incorporating plunge pools, massage areas, saunas, experiential showers, hammams, jacuzzis and a gym all designed with the most precious of materials, it directly connects to a beach club from which guests can swim out into the ocean.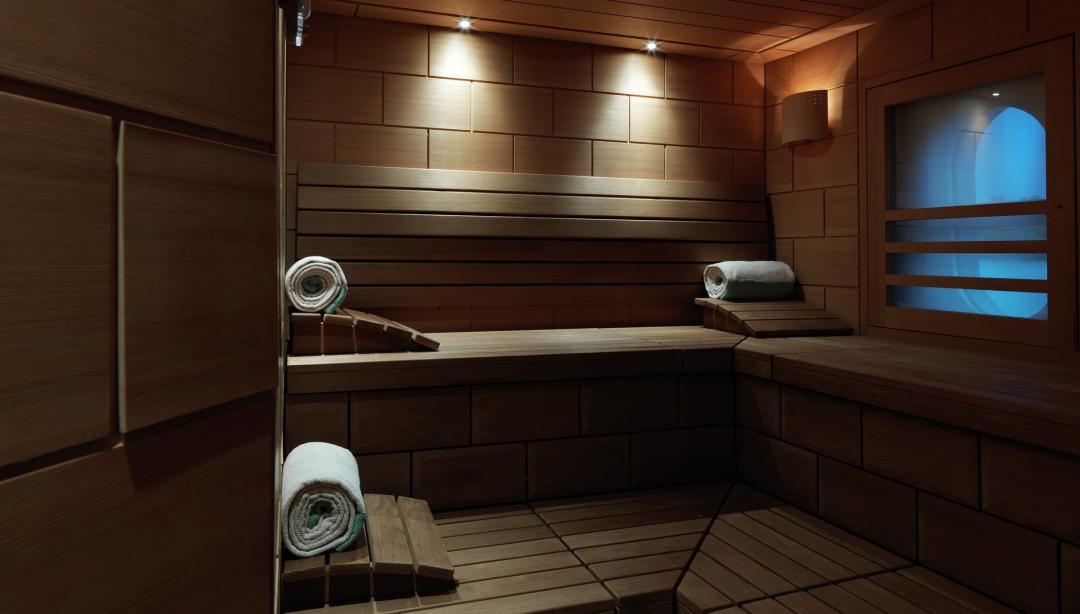 Equanimity's 5 decks are connected by a grand staircase coupled with a glass elevator. Accommodating up to 22 guests in 11 cabins, the yacht was the first one to be built to comply with the new Passenger Yacht Code. Carrying a crew of 31, the yacht can cruise for up to 5,000 nautical miles at a speed of 15 knots, with its top speed at 18.5 kn.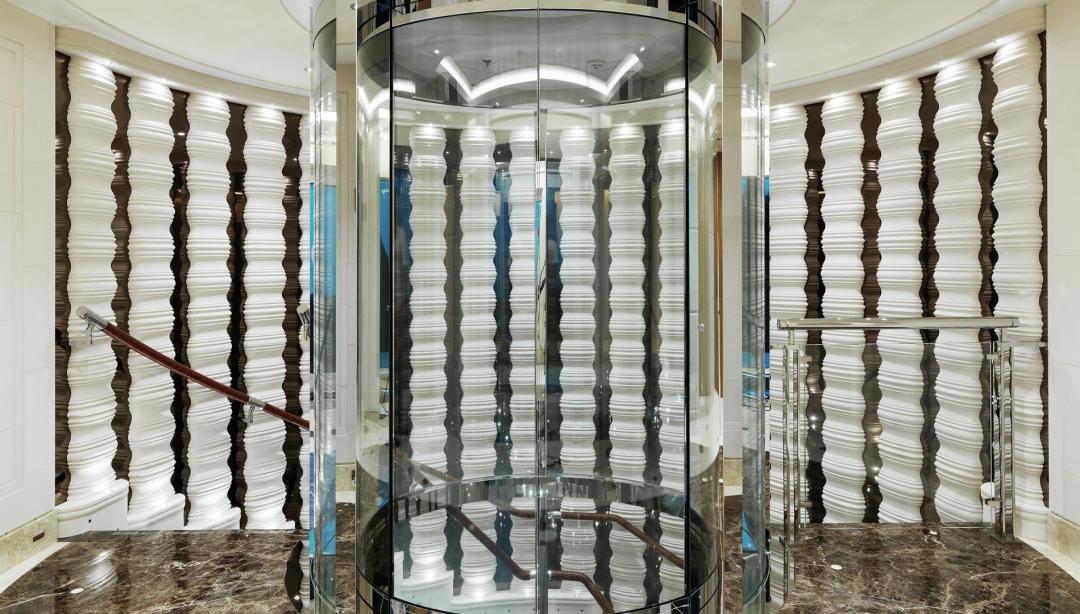 Aft of its second deck, Equanimity features a large helipad, typically covered with lounging sofas and sun beds when not in use. Forward of the helipad is a 20sqm spa pool sitting in front of the entrance to the yacht's spacious main salon. Throughout the deck, guests are kept within the atmosphere of a luxurious, relaxing spa.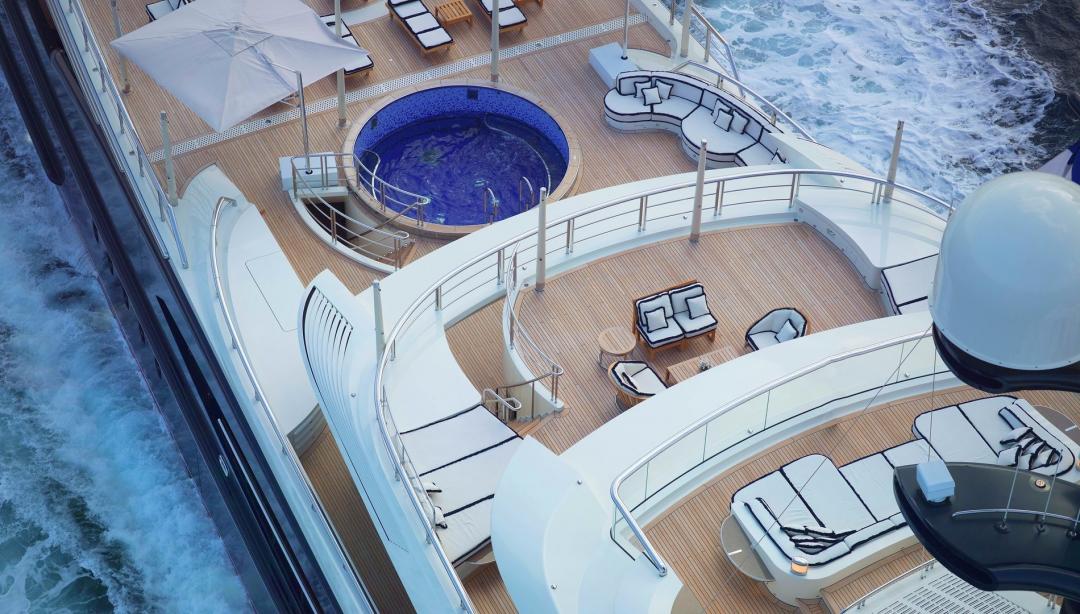 Inside, across the yacht's lounges and cabins can be found a continuing theme of the sea rendered through a clever use of sculptures, ornaments and glass. Centred around a clear colour scheme with tall windows throughout, Equanimity's interior almost acts as an extension of the sea wherever the yacht cruises.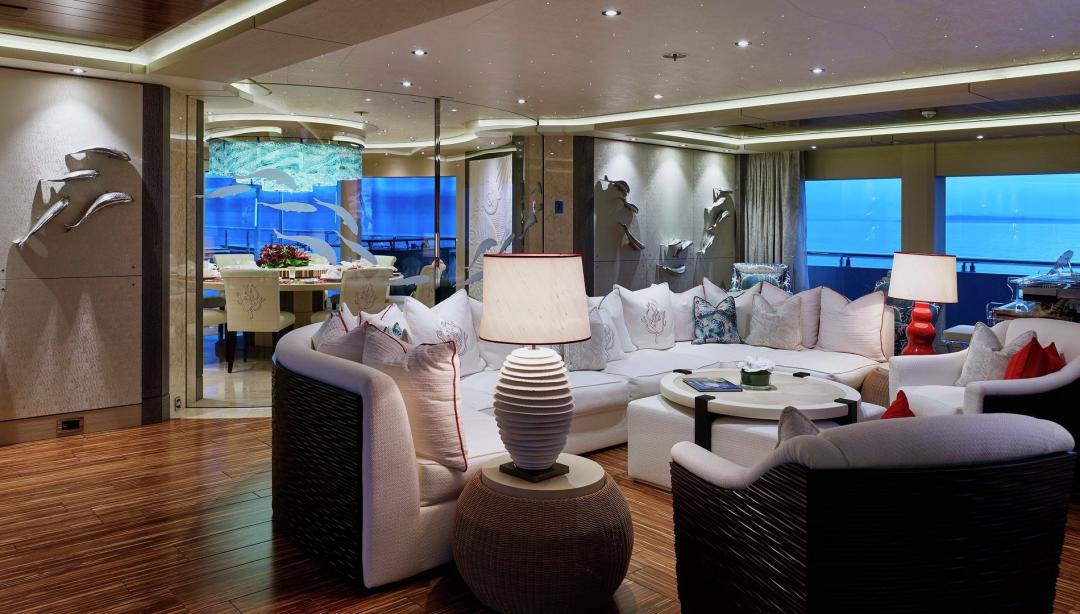 Equanimity's staterooms, styled like a luxurious, modern hotel, are spread out into a master cabin with a study, which can be converted into a double cabin, a VVIP suite, 3 VIP cabins, as well as an additional 2 double and 2 twin cabins spread out throughout the yacht's main deck, giving good views to all guests.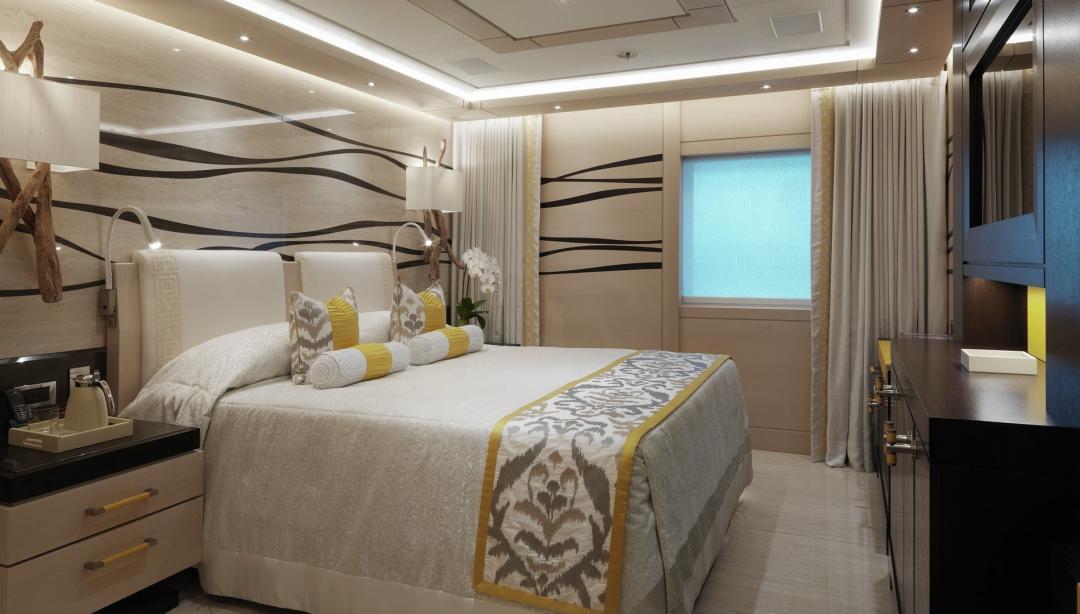 Fully-equipped, the 91-meter's gym can be used underway but is best enjoyed when at anchor, with a fold down platform that opens up onto the sea and lets guests exercise practically on the water. Equanimity also comes complete with two custom-designed, 10-meter Hodgdon tenders to ferry around her guests in style.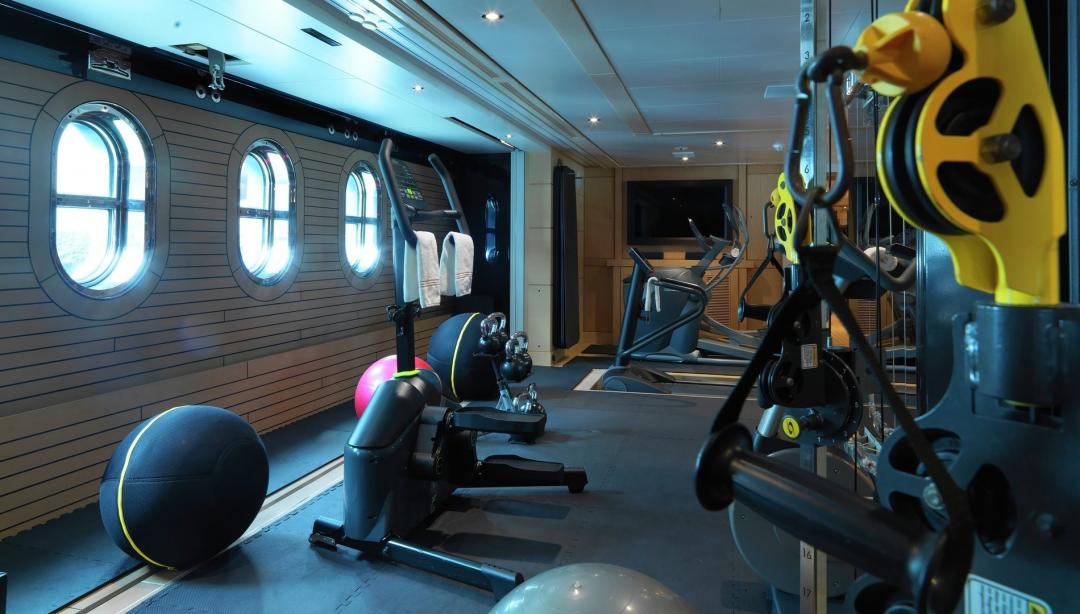 Malaysia's auction will see qualified buyers making sealed bids for the yacht in view of a sale that is set to complete by March 2019. Whilst the exact asking price is for the moment unknown, officials are looking for a 9 figure number according to various press reports. This becomes the 2nd high profile yacht auctioned off this year, following the
95-meter Oceanco, Indian Empress
, which was sold earlier this year for €35 million during an auction in Malta.