Last Wednesday Feadship shared a video of 55m Shinkai during her first time on the open sea. Shinkai, a 55m true superyacht explorer with a no compromise approach, became the eighth superyacht to be launched from Philippe Briand's Vitruvius Yachts studio, with construction and co-naval architecture carried out by Feadship De Vries, while Daniela Boutsen has provided her interior design.
Shinkai leaving the shipyard's Aalsmeer facility
It was a challenging journey – the yacht was required to have a three-person submersible for pioneering underwater exploration along with the giant crane required for launching and collection. Another challenge for the all team was to consider both a superyacht and an explorer at the same time.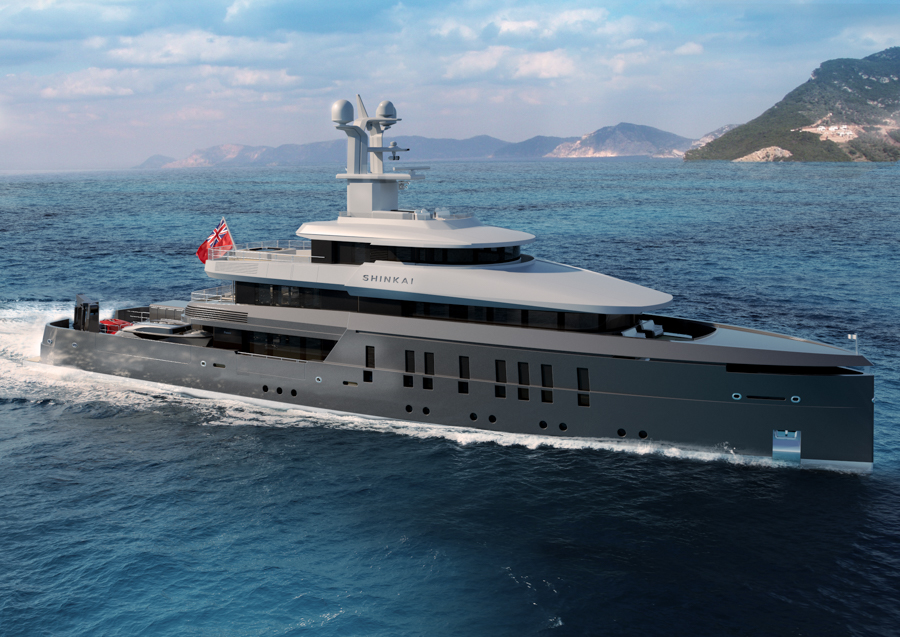 Shinkai renders

"This is a special project for us, as Shinkai is the second yacht that we have designed for her owner. In fact, he was the first yachtsman to embrace the benefits of Vitruvius's efficient hulls," says Philippe Briand. The result is a 55m 974GT Shinkai that can reach the most remote places on the planet. She is ice-classed and stabilized by a vast mono gyroscope, which has never been specified on a yacht of this scale before. The 23-tonne gyroscope is particularly important for operations of the submersible, which needs a perfectly stable launching platform. It is also beneficial when navigating through waters at high latitudes, replacing conventional fin stabilisers which are at risk of being damaged by ice and flotsam, and are inefficient at low speeds.
Shinkai renders

She has four decks plus an observatory setting. The owner's cabin is positioned forward in the superstructure, with an exceptional area of 73 sq. m and a 135-degree view through full-height reinforced windows. There are four further guest suites, while seven cabins for 12 crew complete the accommodations.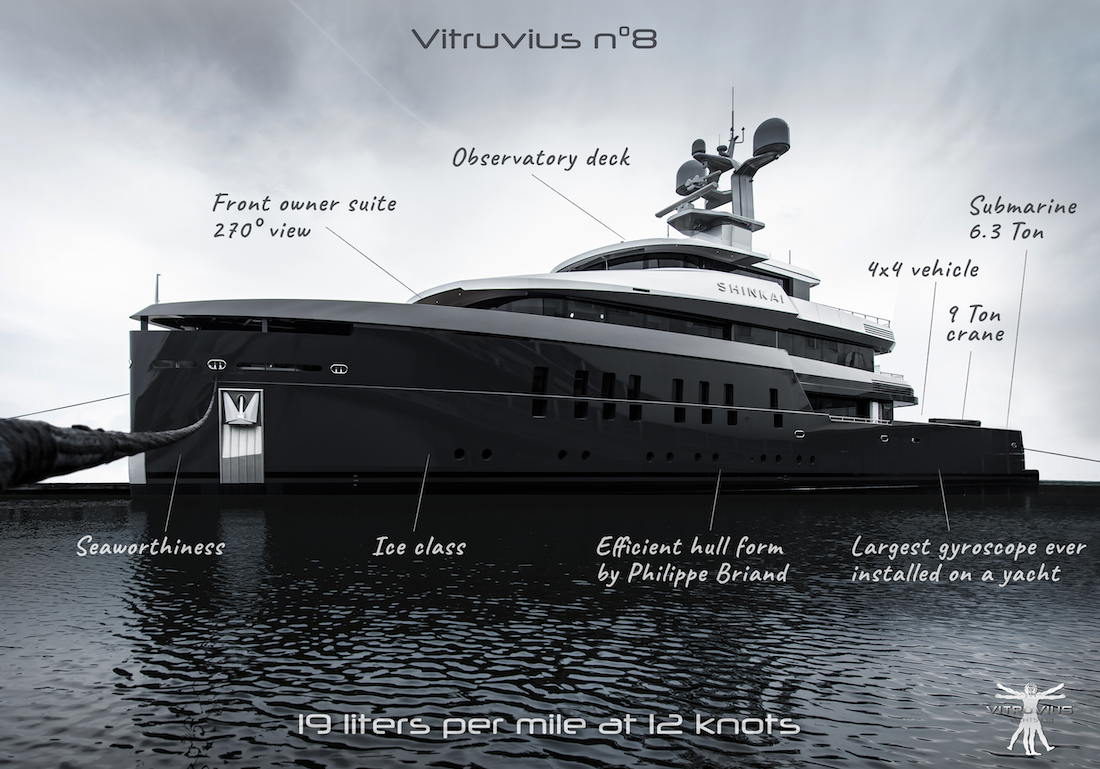 Shinkai infographic by Vitruvius
Being an explorer,

Shinkai

carries a wide variety of serious toys, such as her 7,400kg U-Boat Worx submersible for three passengers. The yacht's design includes an extended aft deck to support the toys that make for a truly adventurous expedition, including 4x4 land vehicle, a large limousine tender, and multiple robust RIBs.
With

Shinkai's

far-reaching cruising plans to explore the planet comes the responsibility to be environmentally sensitive in her operations, which Philippe Briand took into account when designing her hull lines. Even with the yacht's generous displacement of 974GT, her hull resistance has been optimised to deliver a reasonable fuel consumption of 19.5L per nautical mile at a cruising speed of 12 knots.
Shinkai
for the first time on the open sea
Shinkai having just completed sea trials in the North Sea's waters off The Netherlands.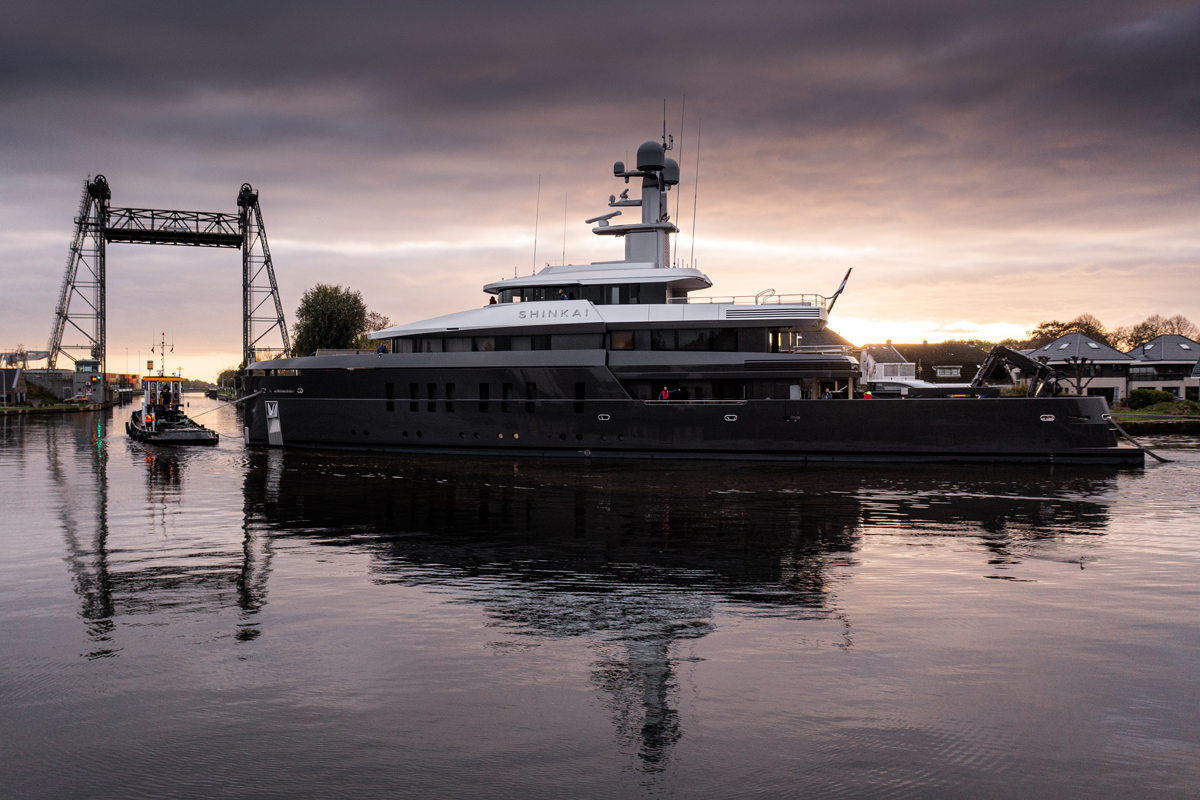 As the creative force behind Shinkai's powerful yet elegant design, Vitruvius Yachts' Philippe Briand was onboard to experience her performance.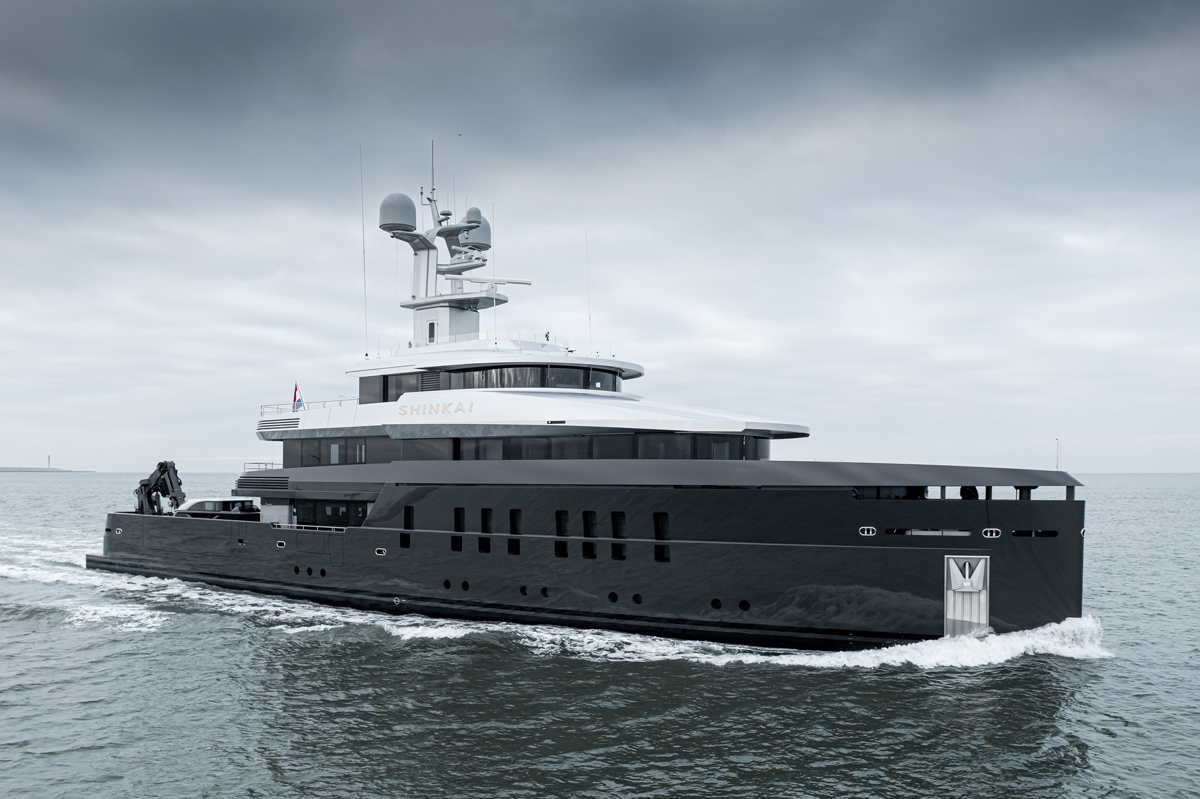 Here, the designer and naval architect shares his thoughts on how she measured up to expectations during the critical sea trials assessment: "The cold, grey November weather presenting itself to us on the day of
Shinkai's
sea trials could not have been better to test her unique blend of rugged explorer meets comfortable superyacht. When you first step onboard, you are greeted by the 'tech beauty' of her striking red submersible and its accompanying immense 'goldorak' style crane; and then your attention is drawn to the glossy silver superyacht before you. A true rarity, she presents an inspiring combination of styles and capabilities".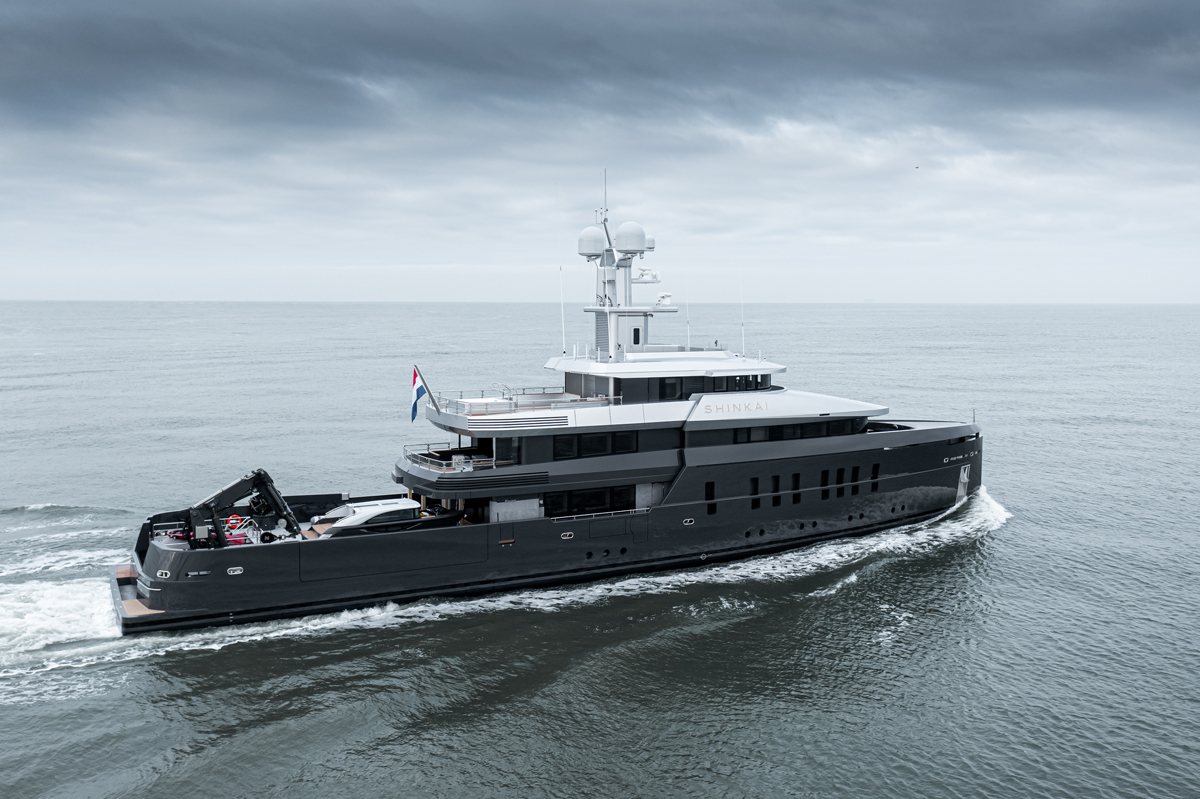 "
Shinkai's
full-height reinforced windows delivering an astonishing 270-degree view. Experiencing her excellent performance first hand, after four years of involvement in her creation from the very beginning, I confirmed to her owner by phone that she will be the perfect protective and comfortable cocoon from which to explore all the world's oceans. And of course,
Shinkai's
design efficiency and Feadship de Vries' technology will help protect the planet's oceans, too!" says Philippe Briand.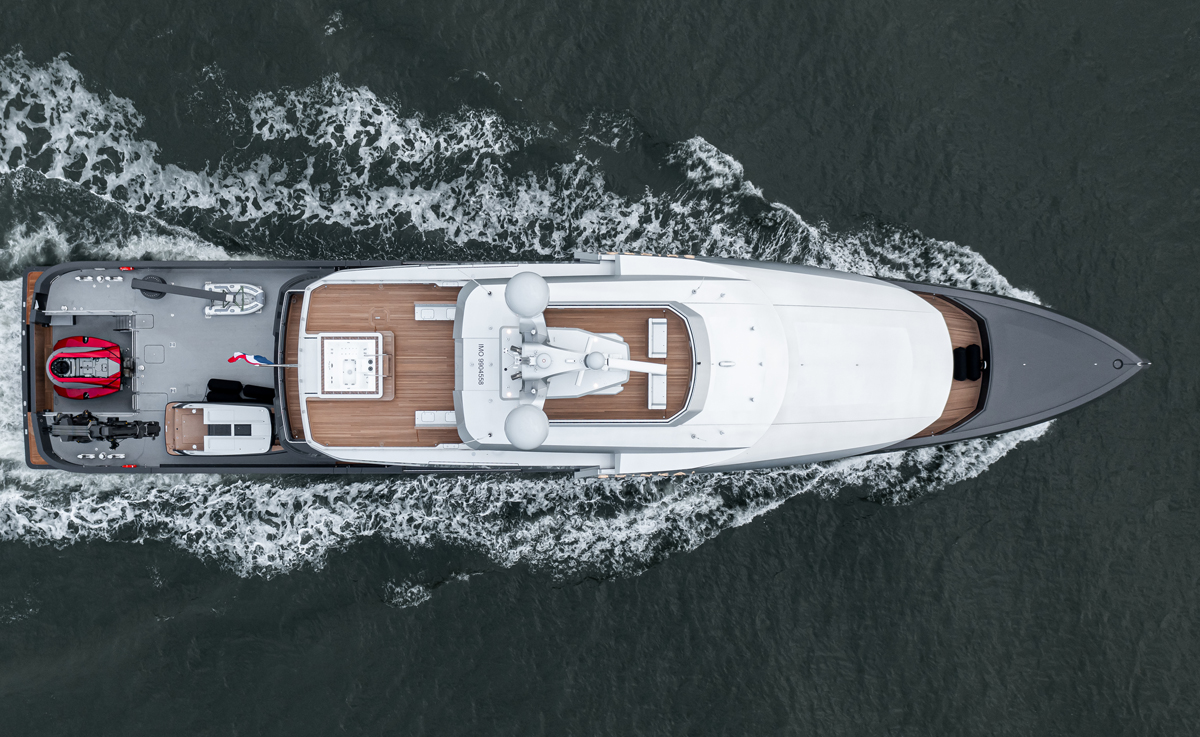 Philippe Briand is the founder and designer of Vitruvius Yachts Ltd. He made his name designing award-winning sailing yachts under his own brand name and building on that experience has led him to create a revolutionary range of motor yachts: Vitruvius Yachts with a range in size of over 100m in length. With over 12,000 boats built to date, Philippe Briand could reasonably be considered the most prolific yacht designer of our time.
Feadship was formed as a group in 1949 as a marketing partnership between six Dutch shipyards, de Vries Lentch, Van de Stadt, Witsen & Vis, Akerboom, De Vries Scheepsbouw and Van Lent Shipyard, and De Voogt Naval Architects. Feadship is well-known as one of the Netherlands' most elite yacht builders and delivers superyachts from 50–100+ meters in length.
Credits: Feadship; Vitruvius Yachts