Today marks the beginning of the 2023 Cannes Yachting Festival. Featuring over 700 boats, including 130 making their global debuts this year, as well as 610 exhibitors, the show offers a wealth of attractions for both industry professionals and enthusiasts worldwide.

Cannes Yachting Show 2022
The Festival takes place between the Vieux Port and Port Canto, showcasing motor boats and their equipment on one side, alongside the Luxury Gallery, a specialized section dedicated to luxury and lifestyle. On the other side, it features the sailing world, with 120 new monohull and multihull boats, a brokerage sector boasting around fifty second-hand boats measuring 22 meters or longer, and the water toys area.

Here is the list of boats that can't be missed.
T52
52m
Baglietto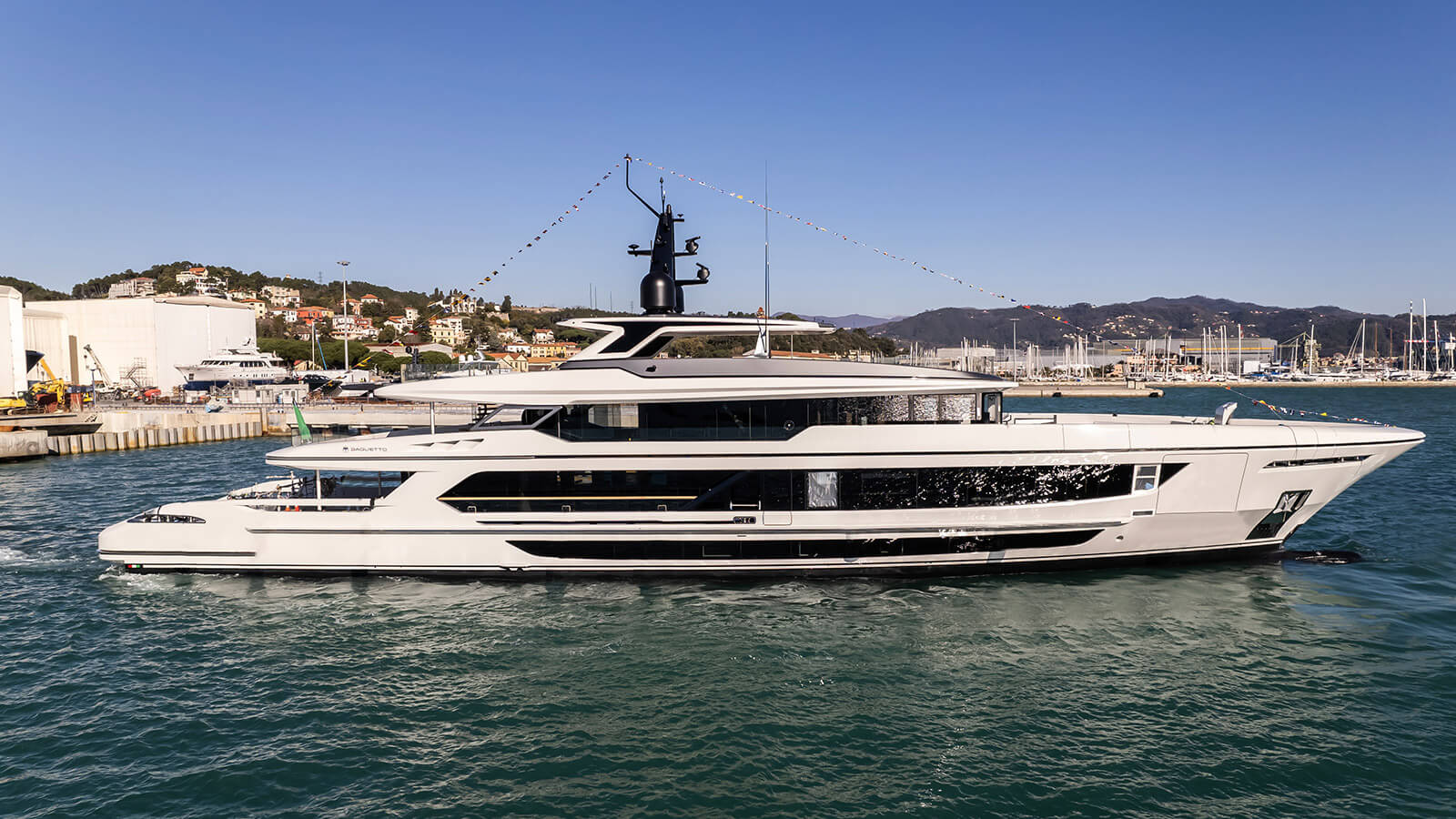 Baglietto's
first T52
with hybrid propulsion was penciled by Francesco Paszkowski Design. The interiors were also designed by FPD in cooperation with Margherita Casprini. The yacht is fitted with a hybrid propulsion system that will allow it to choose a more efficient cruising mode, curbing both consumption and environmental impact. When cruising in electric diesel mode, the T52 can indeed boast a range of up to 7,600 nautical miles, and remain at anchor up to 10 hours relying on the batteries only. Her two MTU 16V2000M86 engines, however, also enabled her to reach quite an impressive maximum speed of 17 knots and a range of 3,600 nautical miles in traditional navigation mode.
UV II
44.3m
ISA Yachts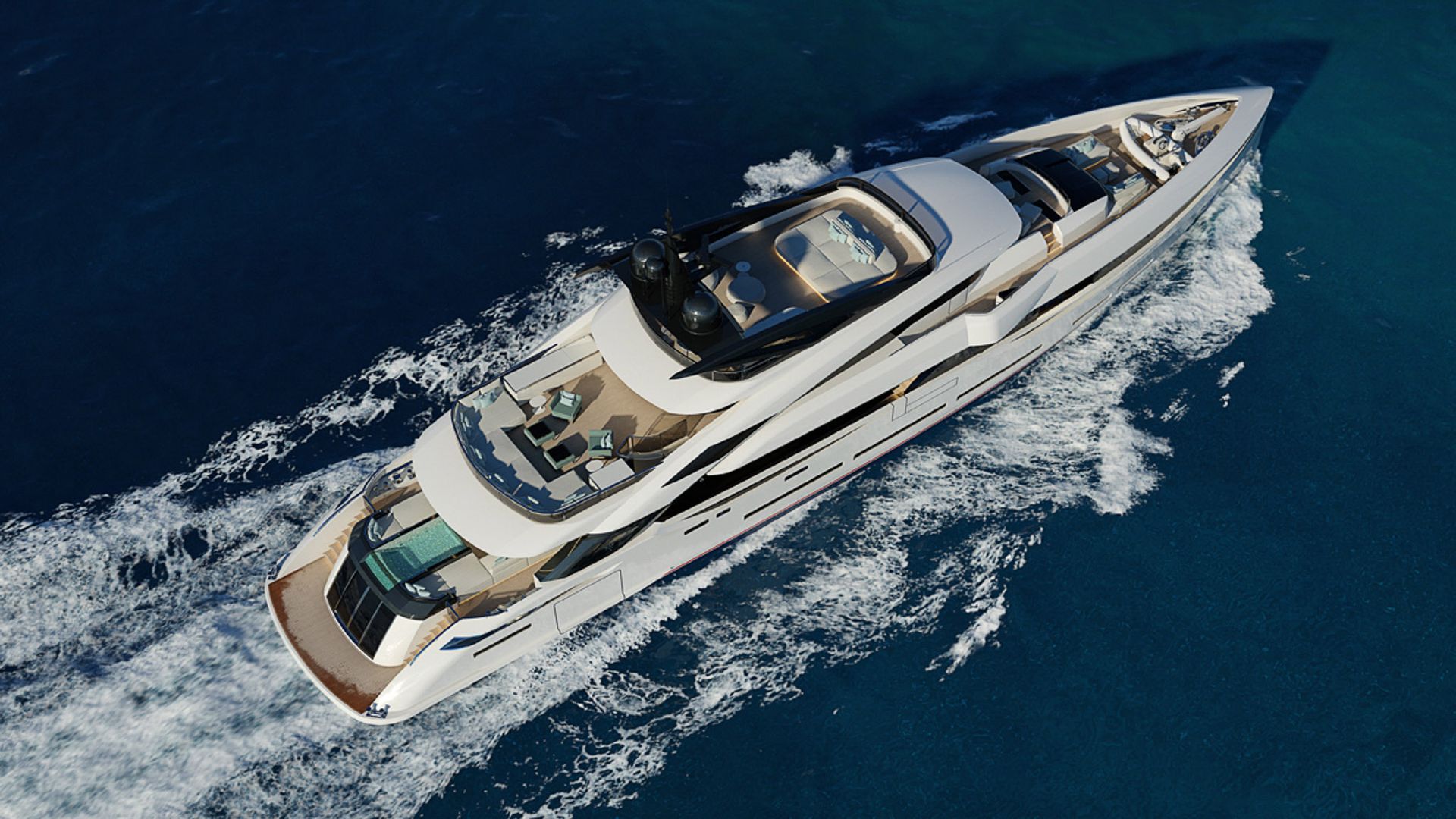 The 44.3m UV II was
delivered
earlier this year but is now for sale via Fraser Yachts. Her exterior comes from Enrico Gobbi's Team for Design, with an interior by Luca Dini. The sporty look, sleek profile and a smart layout with five cabins, including master suite and two VIP staterooms. The yacht features a very wide beach club at the stern, a hot tub on the main deck and lounge, and a second lounge on the upper deck.
Pershing GTX116
Pershing
35.24 m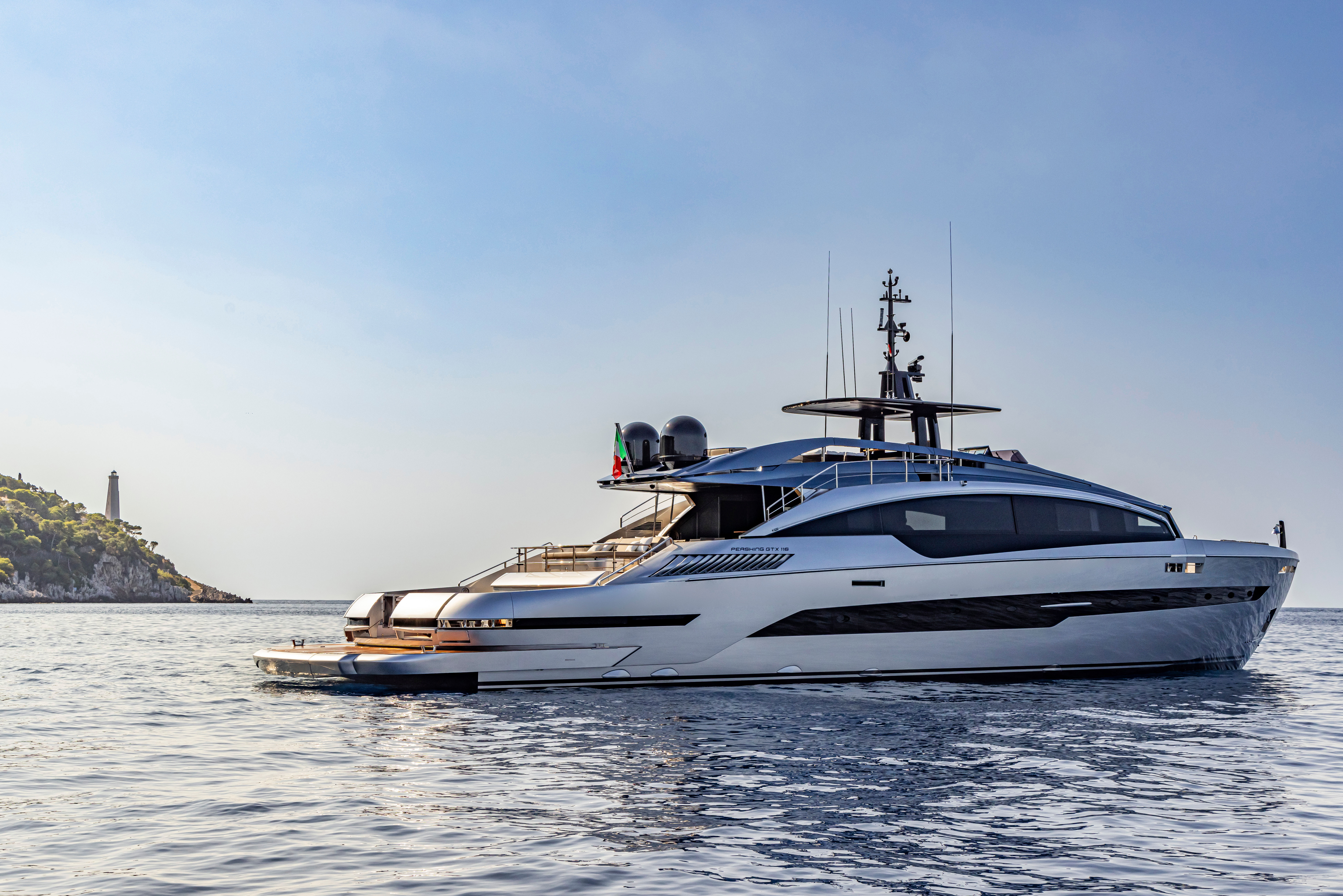 The first yacht in the new GTX line,
Pershing GTX116
combines elegance, volume and the signature Pershing thrill. Her exterior and interior was made by Fulvio De Simoni design studio and confirms the brand's sporty DNA, while enhancing the concept of comfort by providing plenty of open-air space, areas designed to be in direct contact with the water, and liveability guaranteed by the new five-cabin layout.
SX100
Sanlorenzo
30.5m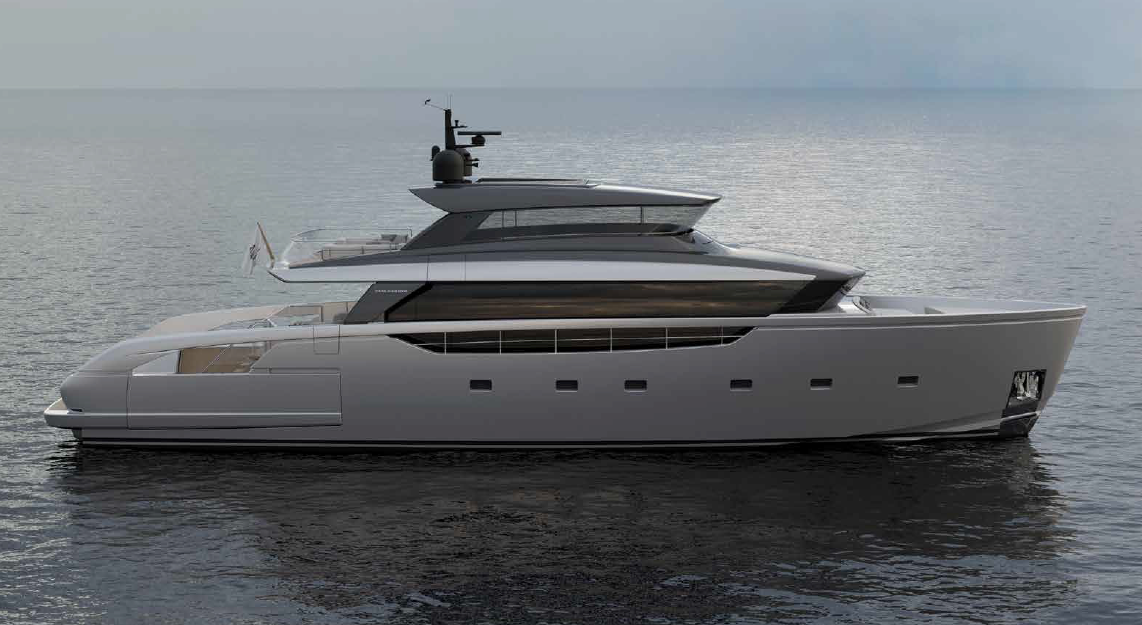 The
SX100
is a crossover yacht where spaces and functions come together in large, open spaces in close proximity to the sea. Born out of the yard's constant dialogue with its owners, the SX100 fits effortlessly into the SX range, adopting and reworking its stylistic features to further optimize on-board content. The Sanlorenzo SX100 offers various layout options, including a three- or four-cabin lower-deck arrangement. It features a unique stern setup that can be configured as a waterline saloon or a master suite, with foldable bulwarks for added light. On the main deck, there's a generous midships seating area, the choice of a VIP or master cabin forward, or an open-plan dining area with panoramic views.
Infynito 90
Ferretti Yachts
26,97 m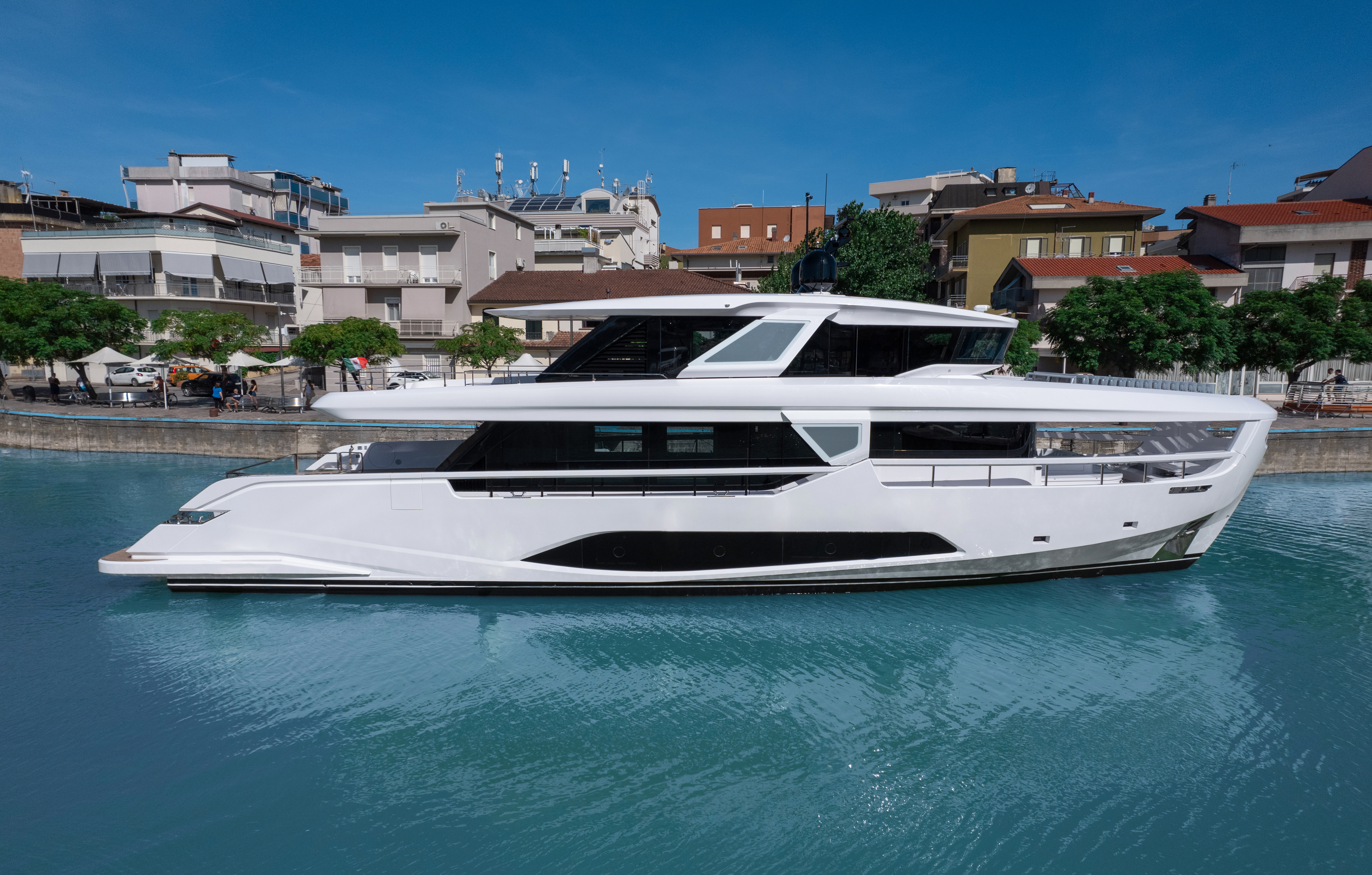 First model
in the new range offers seamless contact with the surrounding environment, more sustainable materials and navigation, custom detailing, and a direct link with the sea and the sky. The exterior was made by Filippo Salvetti, while the interior is the work of Ideaeitalia. The outdoor and indoor settings blend into one another in an unparalleled continuum, creating spaces that can be customized and are more generous than the standard in the category. It is provided with over 100 sq m of open-air living spaces and over 140 sq m of interiors, including a main deck and a skylounge featuring particularly impressive volume.
Riva 82' Diva
Riva
25,29m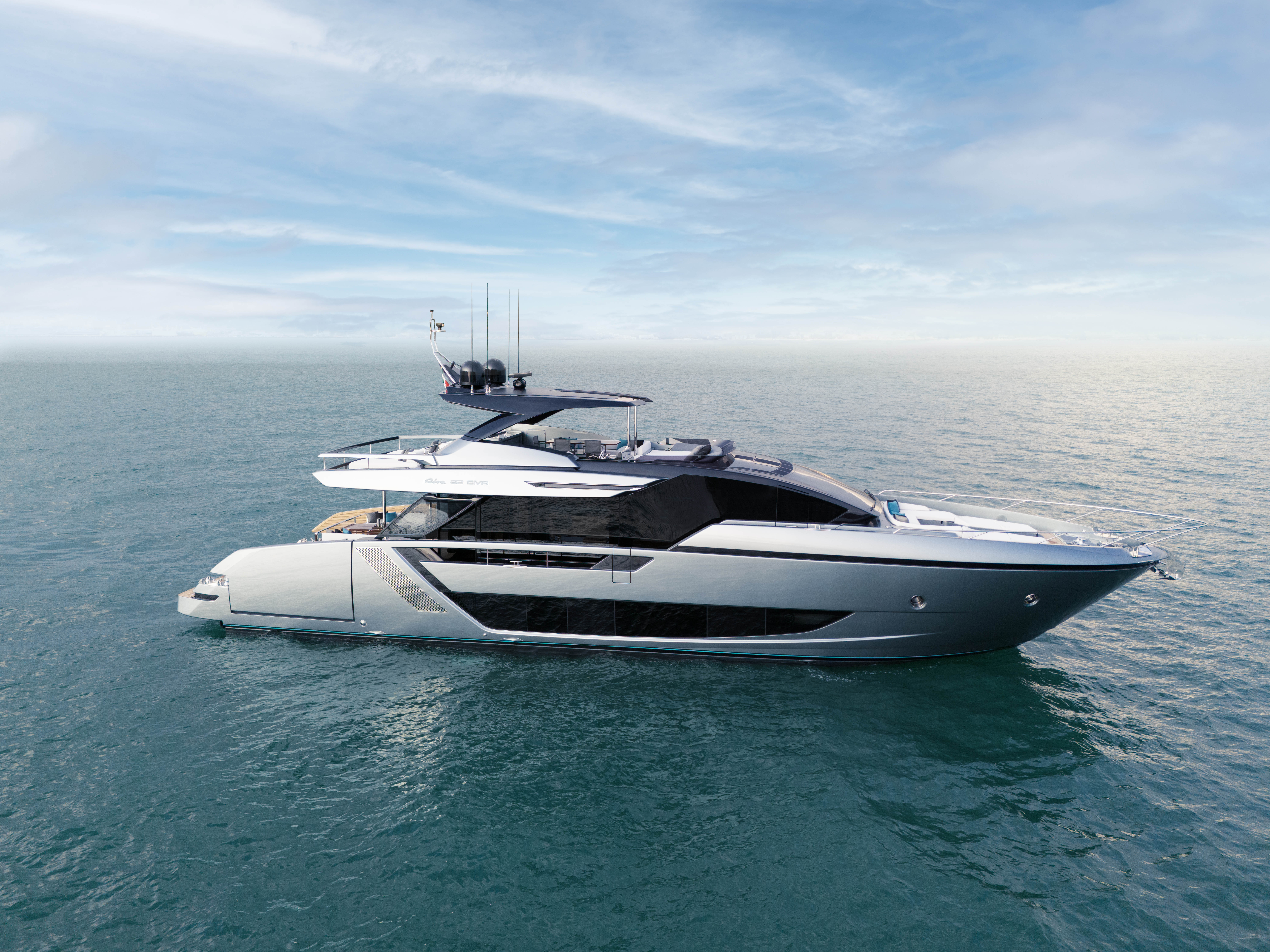 The new
Riva 82' Diva
joins the four hugely successful current models: Riva 90' Argo, Riva 102' Corsaro Super, Riva 110' Dolcevita and Riva 130' Bellissima. Riva 82' Diva is the new entry in the fleet, defining new aesthetic and functional standards not only in Riva's flybridge range but for the entire category. The exterior and interior is made by Officina Italiana Design and puts the emphasis on outdoor liveability and offers a new take on the interiors. The flybridge, one of the project's highlights, was developed to accommodate three separate spaces: a central lounge complete with dinette and bar, a sunbathing area forward, and a lounge area. Aft on the main deck, there is a spacious, innovative beach club of unprecedented size for the category and with a generous sun pad.
Princess Y80
25.5m
Princess Yachts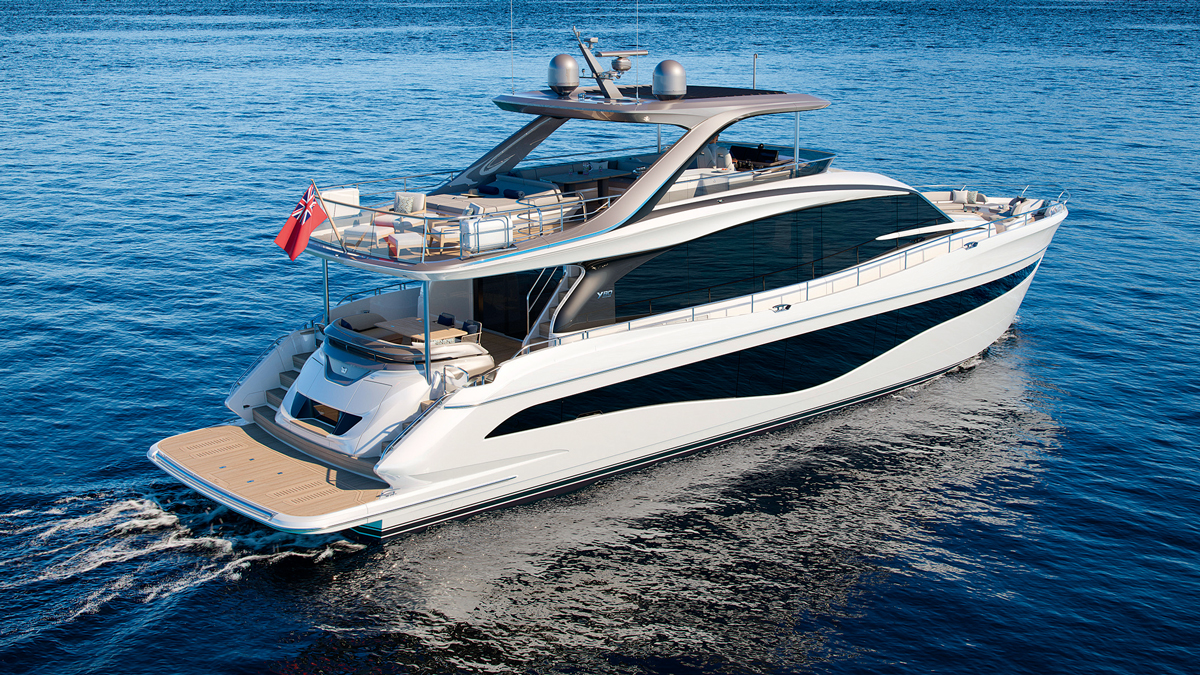 The
Y80
will make her world debut at the Cannes. In the tradition of the Y Line range, which includes the acclaimed Y72, Y85, and Y95, the Y80 emphasizes spaciousness, luxury, and customization. The Y80 adopts an understated design reminiscent of the established Y Class formula, featuring continuous window lines and an 'S'-shaped hardtop linking the flybridge and main deck. Outdoor entertainment remains a priority, offering three cockpit layouts: a U-shaped dining area, central table for eight, and the innovative 'Infinity Cockpit' by Princess. This 25.5m motor yacht impressively combines volume with elegant styling. The flybridge offers relaxation areas, dining, and a fully equipped wet bar. Owners can customize the layout, including options like a tender crane, sun loungers, or a spa bath. Below deck, four en-suite cabins comfortably accommodate eight guests, complemented by crew quarters.
BGM75
22.7m
Bluegame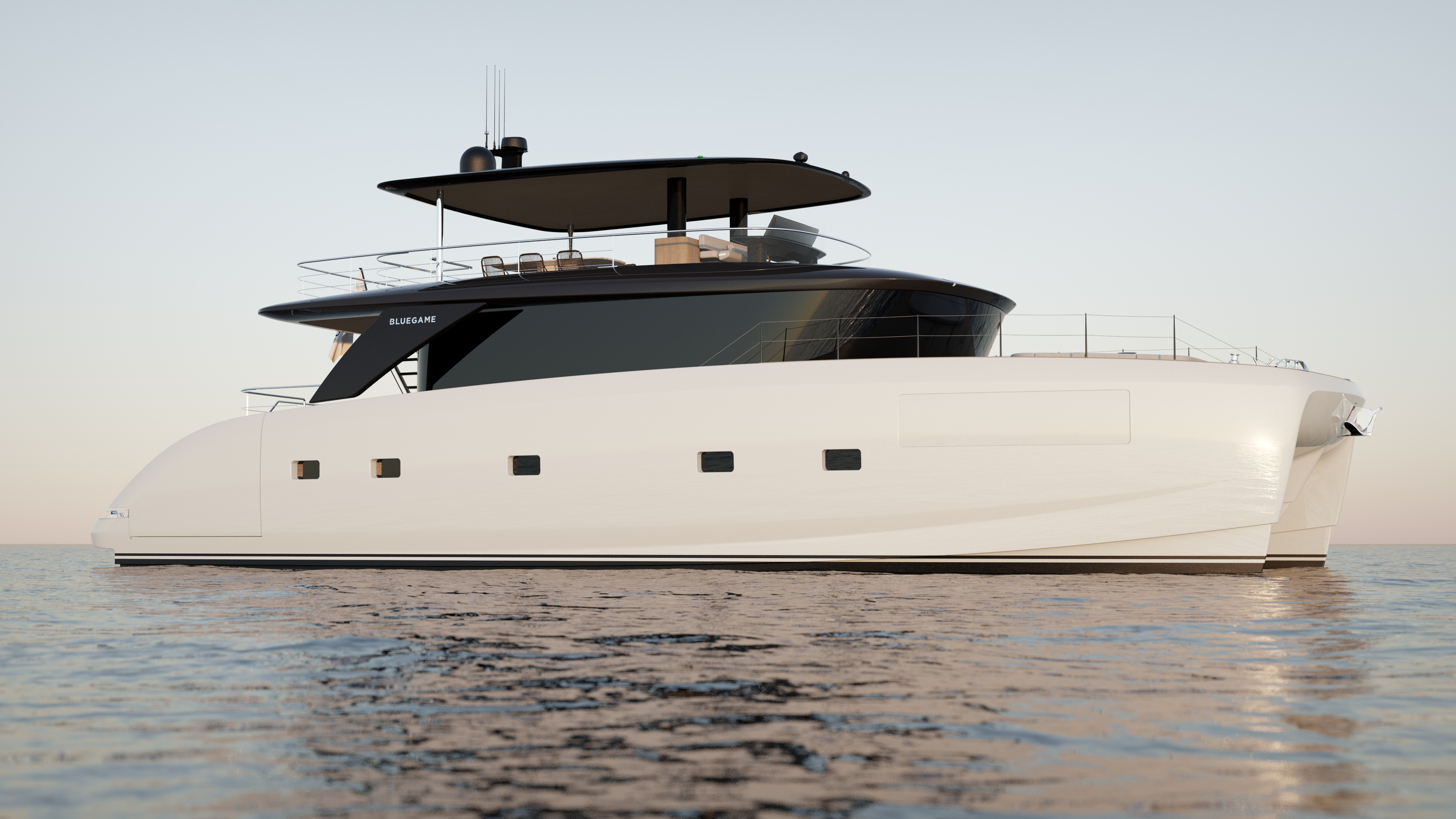 In a pioneering move, Bluegame, a subsidiary of the Sanlorenzo Group, is set to introduce the world to a groundbreaking motor yacht category. The BGM75, conceived in 2020, is their inaugural twin-hull motor yacht, offering superior stability, ample space, and improved fuel efficiency. Bluegame emphasizes that this debutant is more than just a multihull; it represents a novel category. With a modest beam of 22.7m, a little over one-third of its total length, it deftly avoids the typical squared-off appearance of traditional catamarans, akin to the renowned BGX70 and BG72 models. In essence, the BGM75 is, above all, a luxurious and visually striking motor yacht that happens to boast two hulls.
Fly 72
22.64m

Azimut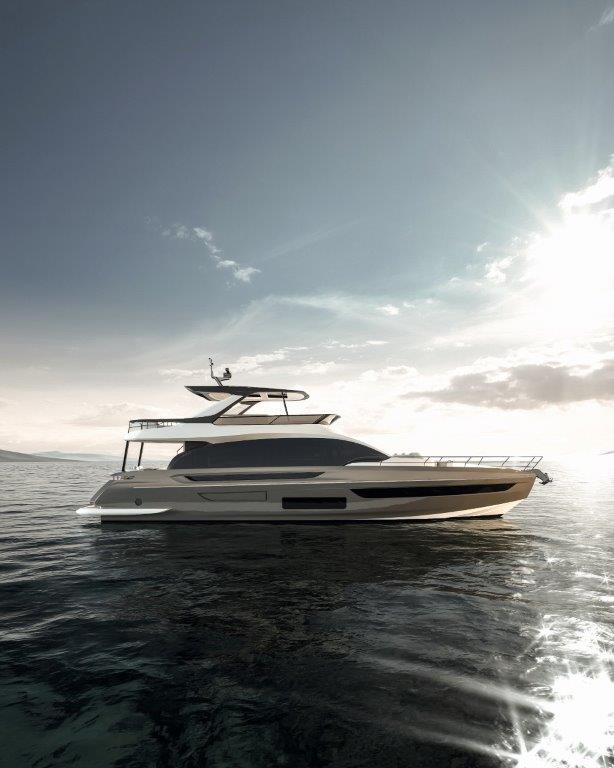 The new
Fly 72
will have its world debut at the 2023 Cannes Boat Show. Designed by Alberto Mancini on the outside and featuring interiors by Fabio Fantolino, known for his distinctive design style, this marks Fantolino's first venture into the nautical realm. His unique approach combines elegance, design, and technical finesse, creating a contemporary and sophisticated atmosphere for the New Fly 72. Meanwhile, Alberto Mancini brings his sporty design legacy to the yacht's exterior, introducing a clean aesthetic that enhances the Series' dynamic sculptural design.
Solaris Power 52 Open

16.20m
Solaris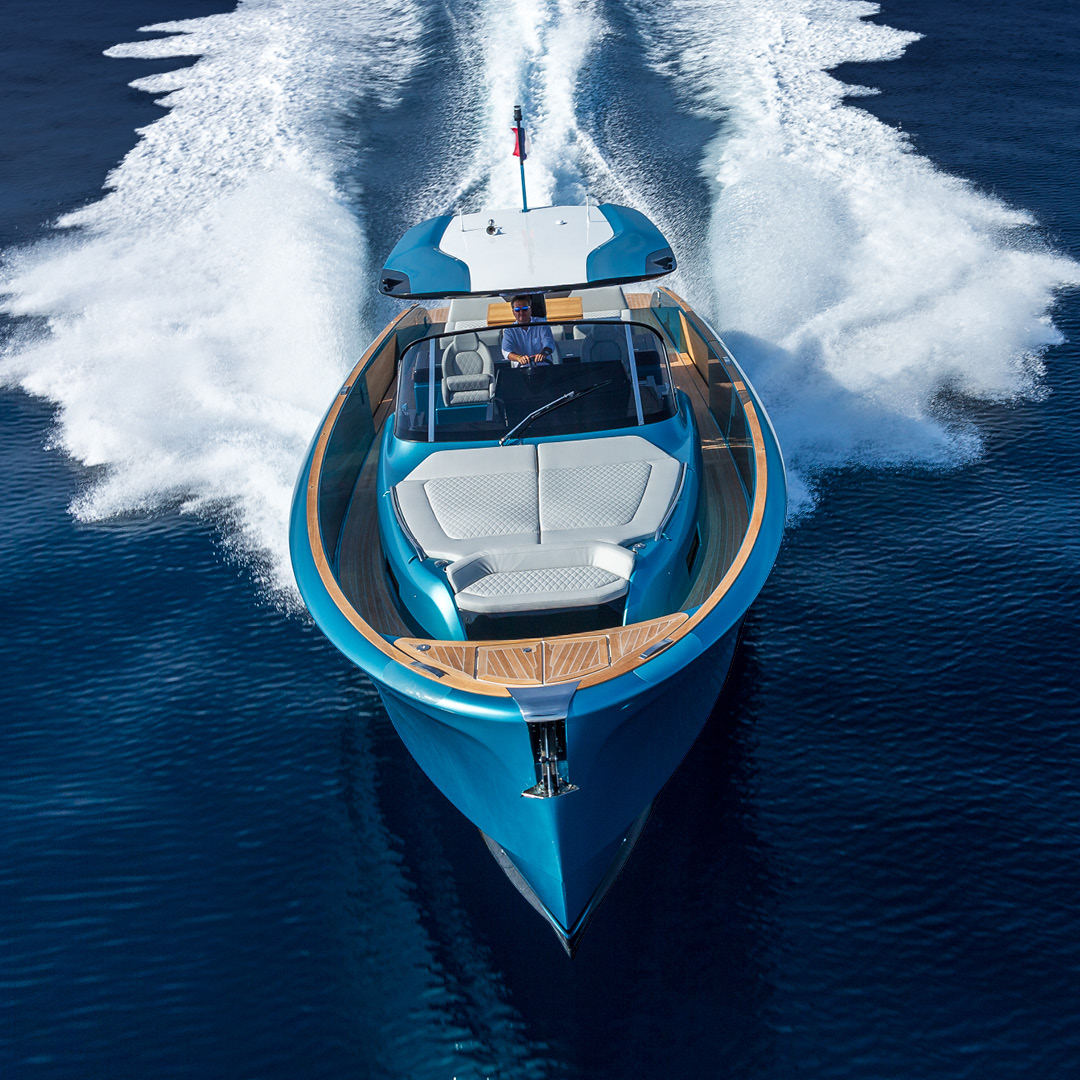 Solaris Power is extending its lineup with the Solaris Power 52 Open, following the success of its smaller models. This 16-meter open speedboat captures the essence of Mediterranean-style boats, featuring spacious outdoor areas for relaxation and an elegant interior with two beautiful cabins. The boat's unique design promises a dry, stable, and comfortable ride, and it offers multiple cockpit layouts for owners to choose from, enhancing the overall experience.
Vespro 55
16.7m
Centounonavi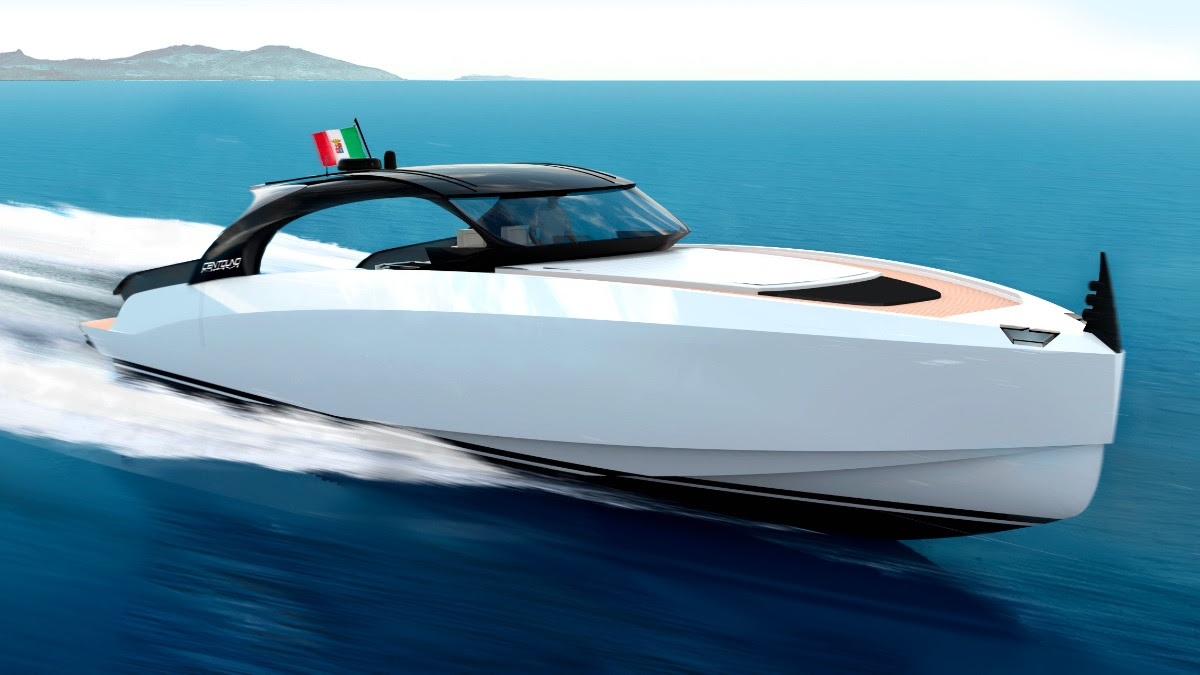 Hailing from the newly emerged Centounoavi brand, which intriguingly translates to "one hundred and one boats," the Vespro is an Italian-made 55-footer. Founded by Marco Arnaboldi, son of Angelo Arnaboldi of AB Yachts, it marries contemporary aesthetics with speed, hitting a remarkable 56 knots (64 mph) at top speed, all thanks to 1,200 hp MAN diesels paired with MJP 350X waterjets. The Vespro serves as an ideal day boat or weekend cruiser, combining performance and style. Its construction features recycled materials and a streamlined hull design, achieving an efficient cruising speed of 50 knots with a relatively economical fuel consumption of eight liters per mile.
Credits: Yacht Harbour archive; provided by press services