Annually, the Cannes Film Festival unofficially represents the beginning of superyacht season in France. The event becomes one of the season's destinations for many of the world's wealthiest people. This year's Festival started on May 14, continuing till May 25, with the most magnificent superyachts showcased in various locations along the French Riviera. Below is the listing of some of the largest superyachts owned by billionaires, that have already occurred in the area, according to Forbes information.

Builder: Blohm+Voss (2010)

LOA: 162,5m

Owner: Roman Abramovich ($12.8 billion)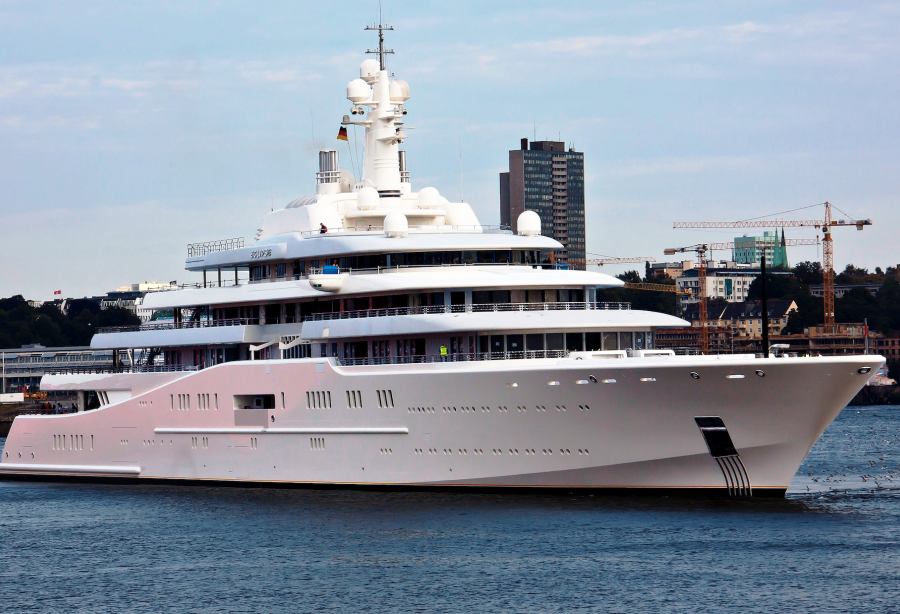 Famously built for Russian billionaire, Roman Abramovich and the owner of Chelsea football club as the flagship of his fleet, Eclipse was delivered in 2010 by German shipyard, Blohm+Voss (now part of Lurssen), as the largest yacht in the world, a title that she held until the delivery of the 180-meter Azzam in 2013.
Although not on the open charter market, Eclipse is available for rent according to several sources at a rate of €3 million per week with the owner's team dealing with the management of the superyacht's operations themselves, without the involvement of any brokerage firm.
Refitted in 2015, Eclipse boasts a 56-meter private owner's deck, a 16-meter swimming pool that can transform into open deck and can carry up to three helicopters at a time.
Builder: Lurssen (2016)

LOA: 156m

Owner: Alisher Usmanov ($12.8 billion)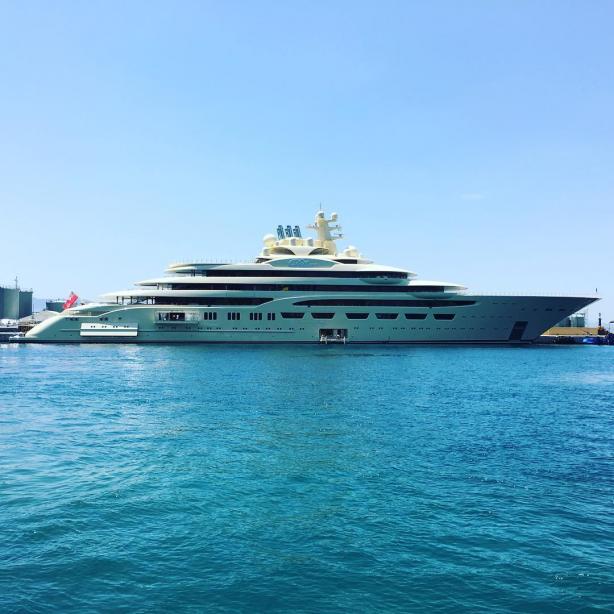 Known during her highly secretive build as Project Omar, the 156-meter yacht was launched at Lurssen facility in 2015. She became Russian billionaire Alisher Usmanov's third yacht and the third yacht to bear the same name Dilbar, after the businessman's mother.
With her gross tonnage of 15,917 tons, she has officially become the world's largest yacht by volume.
Diblar boasts exterior design by Espen Oeino and interior styling by Andrew Winch. Dilbar features a combined 3,800 square meters of living space, being able to host up to 40 guests and a crew of 80.
Builder: Lurssen (2004)
LOA: 138m
Owner:

David Geffen ($8.3 billion)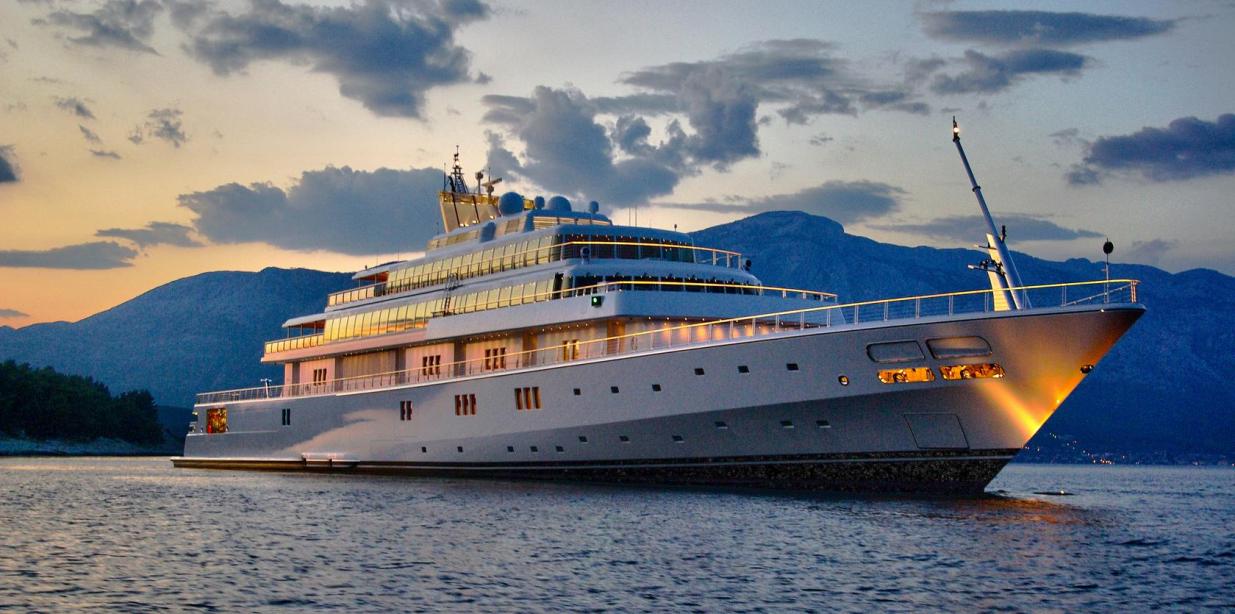 Rising Sun was built by Lurssen in 2004, with the design of Jon Bannenberg. David Geffen, a billionaire with a net worth of $6 billion, co-owned Rising Sun along with Larry Ellison from 2004, before he bought it in 2010. Being one of the largest yachts in the world, it costed $200 million to build Rising Sun, according to some reports.
Builder: Nobiskrug (2017)
LOA: 143m
Andrey Melnichenko ($12.9 billion)
Location: headed to Antibes
The yacht delivered in 2017 features masts stunningly taller than Big Ben. With the height of nearly 100 meters, S/Y A boasts over 12,600 GT of interior volume, just 3,100 less than Dilbar, the most voluminous yacht in the world. By this measurement, she's also 4.6 times larger than the largest sailing yacht in the world, the 108-meter Black Pearl.
The yacht powered by twin MTU engines of 4,827 HP each, is projected to reach her top speed at 20 knots without using her sails and feature cruising speed of 16 knots under transatlantic range of 5,320 nautical miles.
Builder: Oceanco (2018)
LOA: 109m
Owner:

Jerry Jones ($6.8 billion)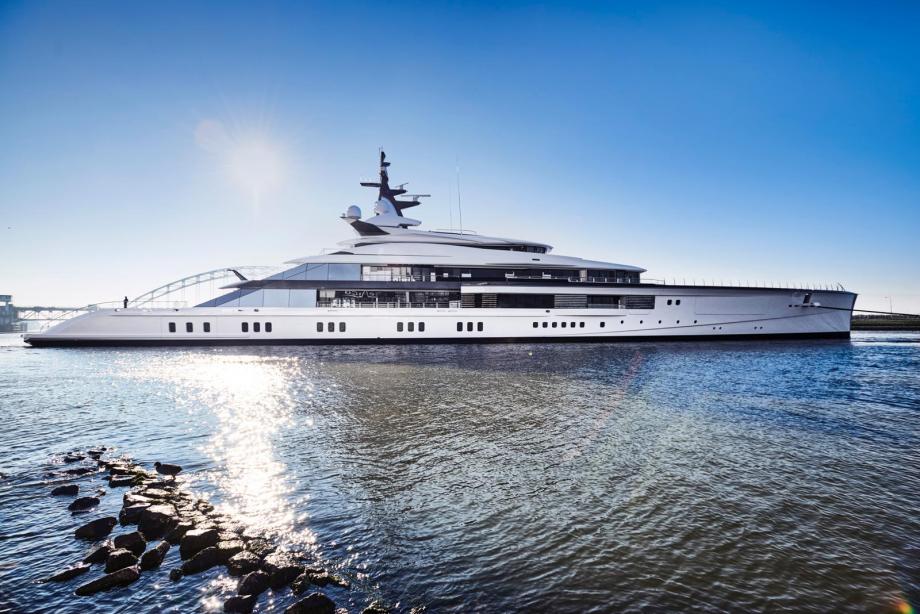 Designed by Nuvolari Lenard with naval architecture by Lateral Naval Architects, the yacht claims to be the first to feature a LIFE (Lengthened, Innovative, Fuel Efficient, Eco Friendly) design.
The 109-meter's interior was created by Reymond Langton, with an expected over 4,000GT of volume stretching across a 16,3-meter beam. Powered by a hybrid propulsion system, the yacht is capable of reaching a top speed of 17,5 knots.
Builder: Lurssen (2008)
LOA: 110m
Owner:

Bahrain Royal Family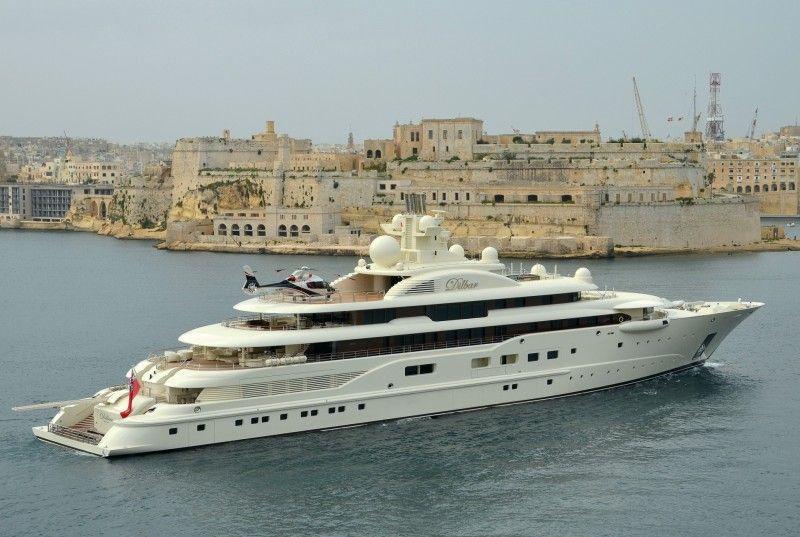 Famously built as Dilbar, the 110-meter Lurssen was renamed to Ona by Russian billionaire, Alisher Usmanov, when the new, 156-meter Dilbar was delivered in 2016 and became the largest yacht in the world by gross tonnage. First listed for sale at the end of 2016 asking €250 million, Ona was later no longer publicly marketed for sale. Earlier this year, her name was changed to Raya presumably by a new owner although the yacht remains berthed at the same location in Monaco.
Builder: Lurssen (2014)
LOA: 104m
Owner:

Sergei Galitsky ($3.5 billion)
Location: Currently cruising Côte d'Azur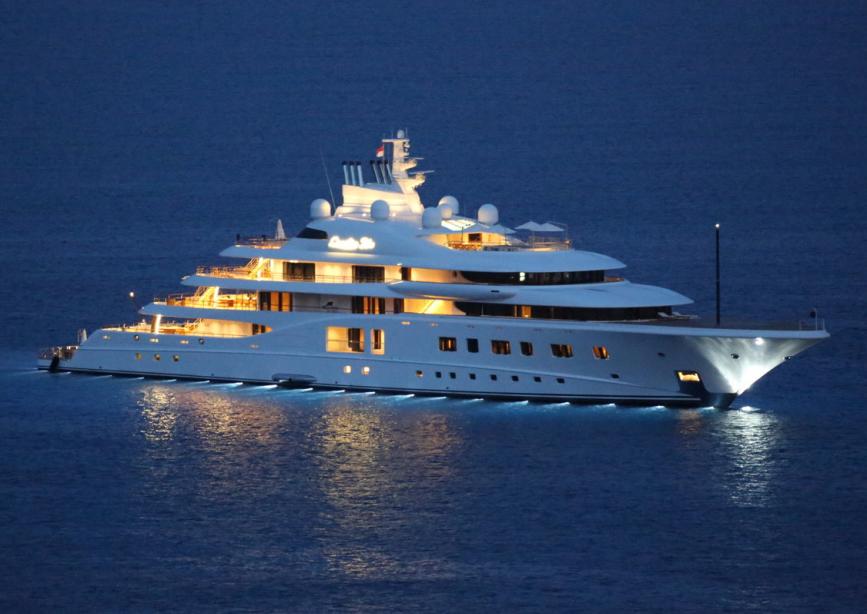 Built in 2014, Quantum Blue was designed by Tim Heywood and Alberto Pinto. She has a length of 104m, a beam of 16.8m and a draft of 4m. The yacht's alluring amenities include a spa with a pool, a lift, helipad, beach club, gym and movie theatre. With a maximum speed of 22 knots, she can cruise at 13 knots.
Builder: Benetti (2016)
LOA: 90m
Owner: Philip Green (
$3.6 billion)
Location: Monaco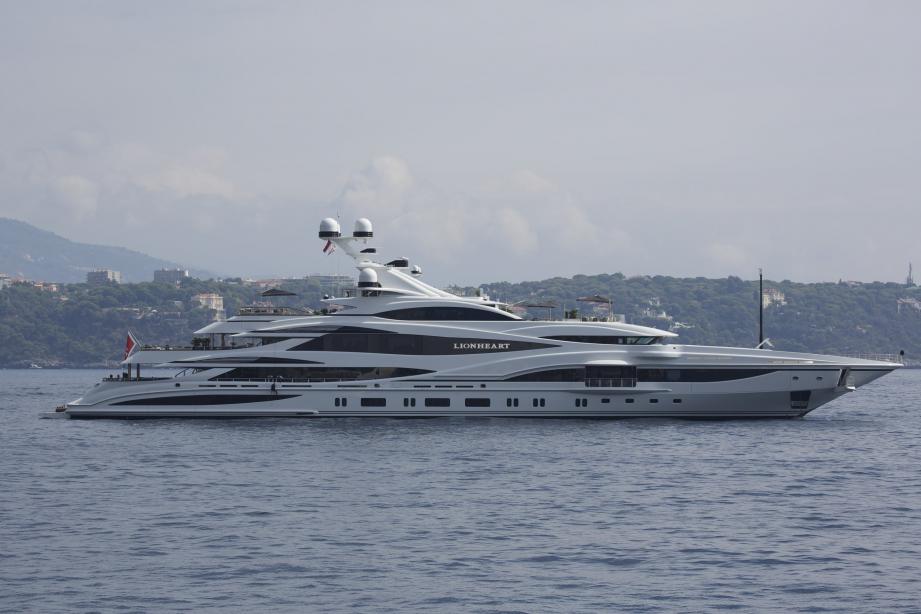 This custom mega yacht was built by Benetti in 2016 as the yard's flagship and the largest vessel, keeping the status until the recent launch of three 100m+ gigayachts.
Stefano Natucci collaborated with Benetti on the exterior design, while Green & Mingarelli Design was responsible for the interior design. Lionheart has a sporty aggressive look, with a large beach club and side-opening doors for easy launching of the tenders. The yacht provides a wide range of amenities including an outdoor bar and ample space for sunlounging and relaxing.
She can accommodate up to 12 guests, the cabins with private balconies on the main deck are a notable addition and will offer great sea views. Also, guests can enjoy open Jacuzzi, spa and barbeque and helipad.
Featured with interior volume of 2,990 GT and a beam of 14.4 metres, the yacht boasts maximum speed of 18 knots with cruising speed of 16 knots.
Builder: Lurssen (2015)
LOA: 91m
Owner: Alexander Machkevitch ($2.4 billion)
Location: headed to Antibes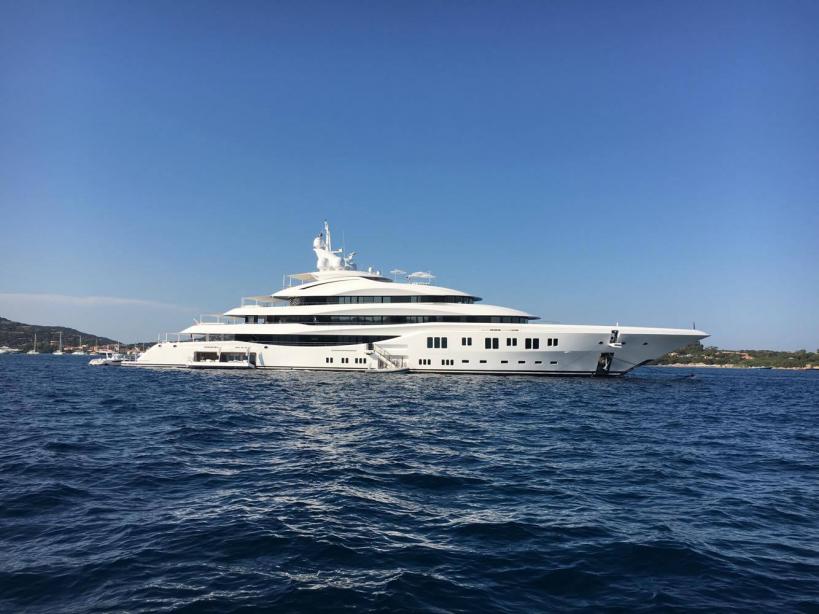 Built by Lurssen in 2015, the yacht features the exterior and interior design from Reymond Langton. Lady Lara's alluring amenities include VIP suites with fold down balconies, a large beach club, a gym, Jacuzzi, a swimming pool and a helipad.
The yacht features feminine elegance when viewed at a distance, thanks to her sweeping curves and elegant proportions that allow her masculine details to emerge.
Builder: Perini Navi (2006)
LOA: 88m
Location:
headed to Antibes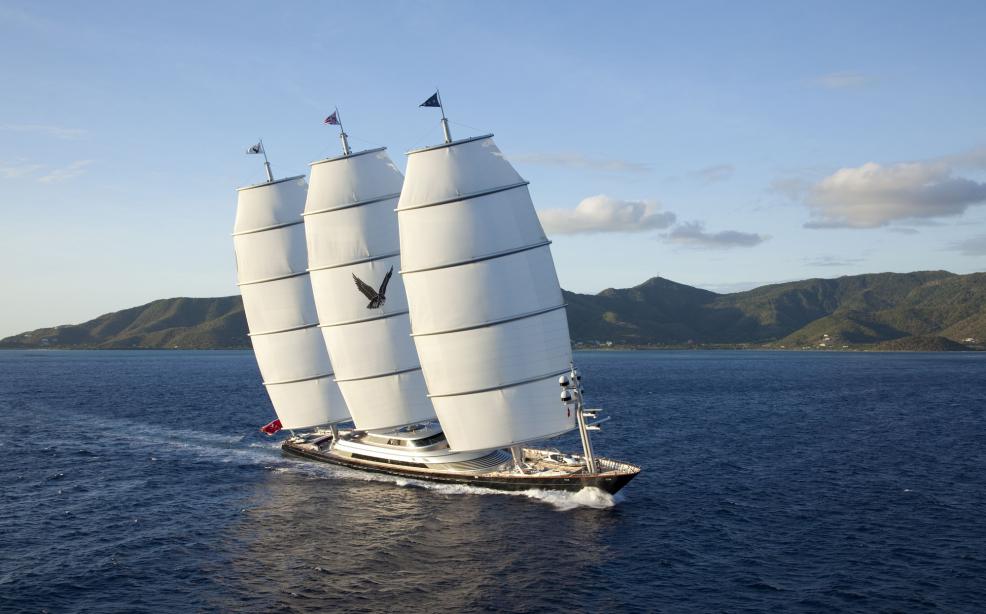 Commissioned in 2000 by Tom Perkins, the late venture capitalist, the
Maltese Falcon
took nearly six years to complete. Sold to hedge fund manager Elena Ambrosiadou at an asking price of €70 million in 2009, the 88-meter is now one of the largest yachts available for charter with a rate starting from €360,000 per week.
Maltese Falcon' most innovative attribute became her sails that could rotate based on the direction of the wind. This was a first for the yachting industry. This innovative system allows the yacht to even sail against the wind.
Maltese Falcon features a cruising speed of 16 knots. Meanwhile, in a storm in the Gulf of Lion, France she demonstrated a speed of 26 knots under sail alone.
Designed by Ken Freivokh, the Maltese Falcon was extensively refurbished in 2015/2016 during a refit. She can accommodate up to 12 guests on-board.