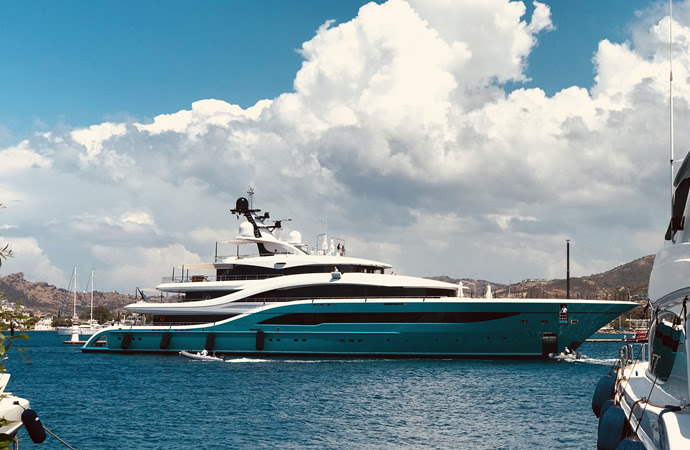 Go becomes the largest yard's yacht to date. At 77m/ 253ft, Go is designed by London-based H2 Design for an European owner and is a leading-edge new generation yacht. Her design is based on the platform of 72-meter Vicky. European owner bought the yacht project already at a construction period in the early 2017.
Following the completion of the hull and superstructure, Go was launched in just 12 months and delivered only 3 months after that. Go is result of a collaboration between Turquoise and H2 Yacht Design, who are responsible for its exterior design and it is an evolution of multiple awards winner of 2013 - 72-metre Vicky built by the yard in 2012. Go is an refined version of this elegant yacht with a modern twist. Well proportioned and graceful, she is the largest yacht designed and built by Turquoise.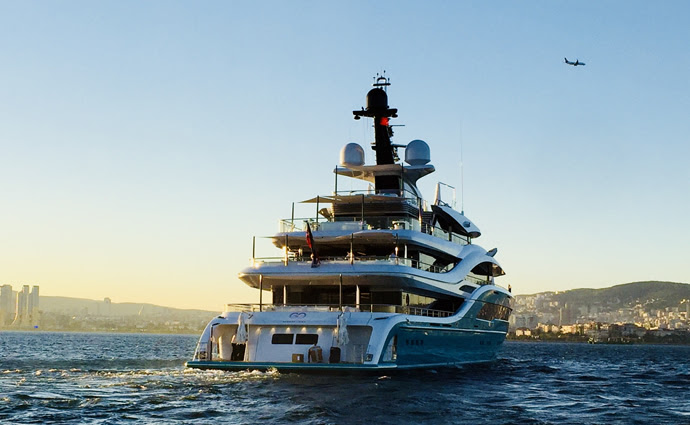 Although a familiarity is noticeable, her profile is more sleek, clean and incorporates a stretched arch that runs all the way round the aft of the vessel. Furthermore the extra length and increase in the beam made possible to add an additional deck. This makes possible a spacious owners deck with a forward facing suite with uninterrupted views over the bow and access to a private deck area with jacuzzi.

Go departed the shipyard for her maiden voyage, and will be cruising the Mediterranean this summer. Stunning, luxurious, and comfortable, Turquoise Yachts' flagship vessel coincidentally sports a sharp-looking hull-painted a memorable turquoise!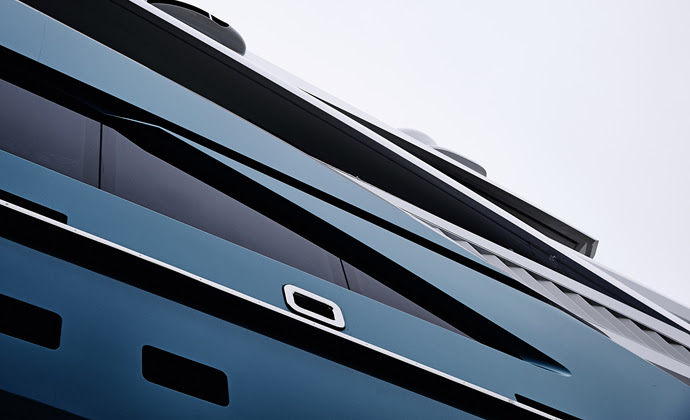 Other key features include a sundeck with 5m pool and a stunning beach club (162 square meters) aft with triple aspect and direct access to the sea for the ultimate in contemporary living. The tender garage can store 2 luxury tenders, one up to 10 meters limousine tender and one up to 8 meters. There is also the elevator from garage/galley to the sundeck.
The interior is also done by H2 Yacht Design. Accommodation on board is up to 18 guests. Crew quarters is up to 20 people, with their two lounger and personal gym. From the grand lobby there is an option of using an elegant staircase or a full sized elevator. On the main deck a substantial main salon and dining room offer an area where all the guests can get together for more formal events in the evenings, or for cold climate socializing. The guest suites are forward on this deck offering maximum comfort and large hull windows. Some of the suites can be interconnected.
Go will make her world debut at the Monaco Yacht Show in September.
Check our
Timeline
platform to get the full access to our analytics platform, that offers you a detailed report on the timeline of each superyacht, real time market view to see the yacht market developing and much more!